Mitten memes take over Twitter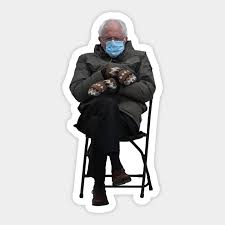 Many politicians, senators, and former presidents attended the Inauguration of the 46th president, Joe Biden on Wednesday, amidst the COVID-19 pandemic. Among those individuals was Senator Bernie Sanders. Sanders was spotted at the Capitol wearing a winter coat, mask, and now-famous mittens while social distancing, taking Twitter by storm.
Memes rolled out rapidly of the Vermont Senator to poke fun at his bundled-up appearance during the ceremony. People started photoshopping Bernie into pictures of their favorite T.V. shows and movies, as they made many more memes of Sanders that went on to be viral. The hashtags #berniesanders, #berniesnadersmittens, and #berniesandersjacket are trending on Twitter. Even celebrities like Joonas Suatamo, who played Chewbacca in recent Star Wars films, had tweeted a photo of Chewbacca with Bernie photoshopped into the photo from the movie. 
Bernie's mittens have a unique backstory. According to ABC 7, Jen Ellis, a teacher in Vermont, made the famous mittens. "I made Bernie's mittens as a gift a couple years ago. They are made from repurposed wool sweaters and lined with fleece (made from recycled plastic bottles). #BerniesMittens" She tweets on Wednesday (via vtawesomeness on Twitter). After tweeting the same day that she was selling some of the eco-friendly mittens, she later informed twitter that she had sold out. "Sadly, I have no more mittens for sale," she says  "I'm so flattered that Bernie wore them to the inauguration."
Check out the latest memes here: Gallery