Midnight Sun's dark retelling of a cult classic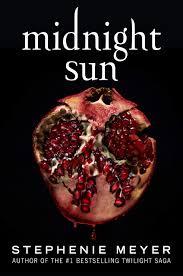 When Edward Cullen stepped into Bella Swan's life in Twilight, a phenomenon was born. From the New York Times bestselling author Stephenie Meyer comes the newest companion novel, Midnight Sun. Originally restricted to Bella's narrative, readers are now able to step into the mind of Edward Cullen for a darker look at the beginning of the iconic love story.
Meeting Bella Swan was the catalyst of a life-changing struggle for vampire Edward Cullen. As the novel follows the events of Twilight, the focus shifts to Edward's internal battle of forbidden love and monstrous tendencies. His ability to read every mind but hers leaves him straining for answers and further captivated. As he falls deeper for the inexplicable human girl, her life is increasingly threatened. As Edward puts it, "the lion fell in love with the lamb." With glimpses into the dynamics of the Cullen family and Edward's tragic inner monologue, readers are met with a deeper insight into the undeniably twisted love story. 
Despite being nearly too similar to its predecessor, Midnight Sun enthralls readers with a deeper dive into the beloved vampire's backstories and relationships. Appearances from the Cullen family were far and few between in the first book, but in this novel, their reactions to Edward's situation are frequently explored. Alice's clairvoyant visions and Carlisle's fatherly wisdom add unexpected outlooks to the otherwise well-known story. Their newly described pasts also give fans a better understanding of the mysterious vampires. Overall, the character development in Midnight Sun is one of its best qualities.
Getting to see Bella Swan through Edward's perspective is another aspect that is sure to please devoted fans. The typically awkward, self-conscious character becomes stronger through his eyes. Undeniably, some of the issues that take away from Bella's character remain, namely her forgiveness of Edward's stalking and occasional view of her as prey: "No trace of the sheds of humanity that I'd managed to cloak myself in over the years remained. I was a predator. She was my prey." Reading the vampire's version of events, however, makes the negatives seem more supernatural than downright creepy.
Stephenie Meyer's excellent storytelling miraculously gives this already known plot suspense, but the 658-word count is not a positive. While fans of the original saga may be interested in extensive descriptions of Edward's inner emotions, casual readers will likely lose interest in the excess. The energy picks up towards the book's ending, though getting there can feel like a long ride. 
Midnight Sun by Stephenie Meyer is sure to captivate Twilight's devoted fans, however, the lengthy retelling may not appeal to a wider audience. This dark twist on the highly successful vampire love story adds new details and depth to a previously published plot. Readers on team Edward are sure to revel in the intricacies of the saga's new addition.