Movie Review: Onward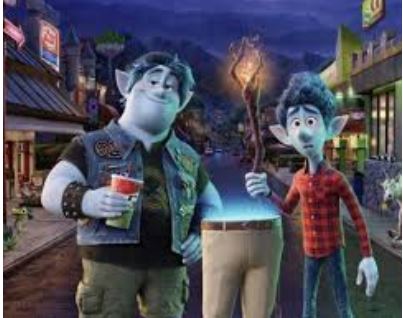 Onward is one of Disney's new releases, released in theaters right before the Coronavirus pandemic. When theaters were shut down, the movie no longer got to be watched, so it was released on Disney Plus April 3rd. 
Onward is a heartwarming coming of age movie about two brothers who find out their dad, who passed away when they were very young, was a wizard. They spend the whole movie trying to bring him back to life so that they could each have one more moment with him. The movie itself is set in a magical world where there are magical creatures, but no actual magic. Magic was replaced with modern-day technology. 
The movie is all about finding yourself and discovering what it really means to be a family. The character development throughout the whole movie is incredible and is probably the best part of the whole thing. Every minor character has some kind of character development. 
The inclusion of the parents throughout is a refreshing change from the usual teenage movie where the parents seem to be nonexistent. The mother and step-father both have rather large roles, and every scene they are in is worth the watch. 
The relationship between the two brothers, Ian, voiced by Tom Holland, and Barley, voiced by Chris Pratt, was portrayed so incredibly well. They had their moments of arguments and rage, but at the end of the day they loved each other more than anything else in the world. 
Onward far surpassed my expectations. I expected a cute Disney movie, but it was so much more than that. The world-building and character development was portrayed so well. The humor mixed with sadness throughout the whole movie had me on my toes the entire time. 
Every single scene has you laughing, crying, or both. It's a wonderful movie to sit and watch with your family during these unfortunate times. Onward is full of adventure and the importance of family, and it is a must-watch!