'Frozen 2' movie review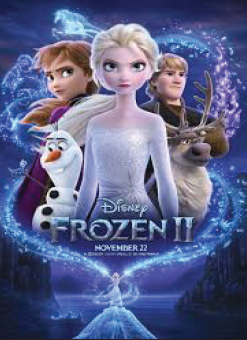 If you are a fan of 'Frozen', you will love 'Frozen 2'. It's full of the characters we know and love, along with new music to enjoy and another thrilling adventure. It's definitely a must see!
'Frozen 2' has just enough similarities to the first one to keep the old audiences in. However, 'Frozen 2' adds a much needed darker plot. It is still a childrens princess movie, but the stakes have gotten higher and the scenes have a darker element to them. It's a perfect watch for children and adults alike.
'Frozen 2' did a good job of going more into depth on the characters. Any information that may have been left out in the first movie was explained in its sequel. You learn a lot more about the parents of Elsa and Anna, information that helps to show why they are who they are today.
When asked if she enjoyed the movie, Junior Jordyn Bew states, "I liked that you got to know the characters more, and learned more about their past. I really enjoyed that we got to learn the background of their parents."
Josh Gad, who voices Olaf, stole the show as always. Every time Olaf made an appearance, I couldn't help but laugh at something he did or said. He was the highlight of 'Frozen', and he definitely didn't disappoint in 'Frozen 2'. If anything, his lines were even funnier and richer in the second movie. The producers clearly took note of how much the audience loves Olaf. He even got his own song again!
Everyone got their own song at some point throughout the movie, but Elsa's stole the show as usual. "Into The Unknown" is the kind of song that has you belting out the lyrics, but also gives you chills. I wouldn't be surprised if it's the next "Let It Go". It's catchy and fun, and perfect for the 'Frozen' franchise.
The other songs didn't quite live up to the expectations that the first movie set up, but the rest of the movie made up for that. The darker plot and the deeper analysis of the characters made the movie more enjoyable as a whole.
The ending of the movie left me satisfied and excited all in one. It's the kind of ending that could be a finish to the series, but could also lead into another movie. For money reasons, there will probably be a Frozen 3. But I would personally be satisfied either way due to the phenomenal way they progressed 'Frozen 2'. If you have not yet seen it, I highly recommend it. Be prepared to laugh, cry, and ultimately have a good time!