BTS shatters cultural barriers in America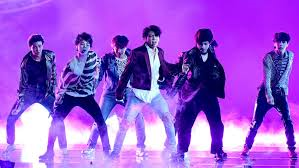 The world has a variety of different cultures, languages, and music. In the United States, where people of different races, background, and cultures live, it'd be thought to be common to see lead actors be Latinos, an Award Academy Director to be black, and hear a song in Korean on the radio be the top five most played. Seeing people that look like you be portrayed as strong, smart, and someone that could lead other people be part of everyday life. The sad reality is that, this is not the case.
In the beginning of 2018, the first superhero movie with an all-black cast, came out. Black Panther became Marvel's highest box office sale on opening week before Infinity War came out. In August, "Crazy Rich Asians" was released becoming the first movie with an all Asian cast. It portrayed Asians in a different light, and rather than as the stereotype that they are "short and good at math". That same month Netflix released the movie "To All the Boys I Loved Before" starring an Asian American actress. Jenny Han, author of the book series To All the Boys I Loved Before revealed that production companies who wanted to make her best-selling book into a movie also wanted to whitewash the main character. This practice is more common that some might think.
In recent years, when you turn the radio on in your car to listen to music, English is not the only language you hear. Latin music has taken a big step in America and South Korean boy group, BTS, is not stay behind on this either. BTS (Beyond The Scene) has grown with enormous popularity in the west. They got support from people of all ages, races, and genders by spreading the message to "love yourself" with their recent album series and tour called Love Yourself. BTS has sold millions of albums worldwide, becoming the first Korean act to receive three Golden RIAA certification in the US.
They have been #1 on the Billboard Top 200 album chart two times in one year becoming the 16th act to ever do so in history and first Korean act as well. All these achievements are amazing for a foreign act with the message to love yourself, something we all need in this world. BTS joins hands with the United Nations Children's Fund (UNICEF) to stage campaigns against violence toward children and teens around the world, with the hope of making the world a better place through music. They were invited to speak at the United Nations about that campaign, but prejudice and close-mindedness could be a prevention from seeing the messages that BTS sends to this generation. Radio stations are weary of playing BTS songs because it's is in Korean and not in English even though they have their songs have been on the Top 20 Billboard song chart and the positive message their music sends. We still have a long way to go for all people to have equal representation in the entertainment industry.