Paper Towns: Movie review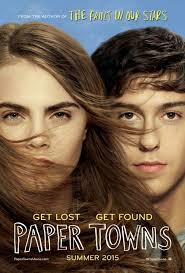 John Green has yet to disappoint fans and the box office – his latest movie success, Paper Towns, pleased fans all over the country and raked in over 6 million dollars in just over a month since its release date. A fun, friendly, and relatable teen comedy/love story, Paper Towns sparked a huge conversation among the nation's teens. Described as a "feel-good" movie, viewers raved about the comedy and deep message that the movie sent about relationships and high school.
Nat Wolff played a perfect Quentin Jacobsen, and had the exact awkwardness and sarcastic attitude as the character portrayed in Green's book. Cara Delevingne, though a little more physically pronounced than the Margo Roth-Spiegelman described in the book, (she was not so much soft, short, and curvy as she was tall, lean, and defined) played a perfect adventure-loving and mysterious girl next door. The supporting characters, such as Quentin's two best friends Radar and Ben, (played by Justice Smith and Austin Abrams), Lacey Pemberton, (played by Halston Sage) and Angela (played by Jaz Sinclair), were a perfect cast and the personalities of all the actors blended very well. The onscreen chemistry was phenomenal and the cast could not have been better chosen.
Though some details didn't exactly match the ones in the book, (for example, Angela, Radar's girlfriend, tagging along on the road trip) most details really added to the theatrical effect and allowed viewers to get even more attached to characters. Overall, the differing details were small and the movie incorporated many elements to create a span of emotions from start to end. Though they were very noticeable to those who read the book, the changes were subtle and didn't veer away from the plot or overall message sent. Paper Towns was an enjoyable read and even more enjoyable film. It is definitely a must-see this year and will only get better with each view.