Softball Season has Officially Started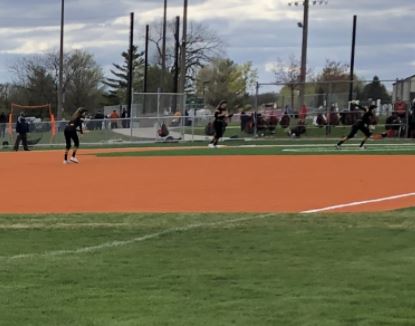 The softball season has officially started! Since there was no season at all last year, the players are all ready to be able to come together and have a chance to play for their school! "I am very excited for the season!" Said Freshman Sydney Lukancic, "The girls are so sweet and I'm looking forward to getting to know them. The coaches are great too!!"
On April 5th, 26 girls showed up to try out for the Joliet West softball team. Since there were not many people who tried out, no one was cut. The girls were split into two teams, JV and Varsity. Both teams have very talented players this year!
The JV team consists of nine girls who practice at the JV level. Two of the girls are sophomores, while the rest are freshman. On game days, some of the varsity players will come down and play with the JV girls to help make a complete team. This includes two of the three pitchers from varsity. 
In 2019, the Joliet West softball team placed third in state, which was a huge deal. After not playing last season, the team only has three starter players left from 2019. They have Savannah Fierke- senior pitcher, Alex Hughes- senior catcher/third baseman, and Lanie Chizmark- senior center fielder. These three varsity players have been chosen as the team captions for the 2021 season. "Our three captains have very high expectations going into this year," Head varsity coach, Heather Suca, said, "I am very pleased at how well the seniors have been stepping up to create a great team chemistry while working so well with the younger athletes."
On Wednesday April 14, the varsity team had their first game in the WJOL tournament! The girls did an amazing job playing as a team and won the first game! The score ended up being 3-0 against Minooka. On Thursday, they had two more games in the tournament. The second game was against Lincoln Way Central, but they lost 7-0. The third game ended with a win, 6-4, against Lockport, leaving West with a third place victory in the tournament!!
On Saturday April 3rd, JV had its first game! The first game of the double header was played by the varsity team against Lincoln Way West. The girls ended up losing, but tried their hardest. The second game was a JV and varsity game also against Lincoln Way West. The JV team did a wonderful job and won 6-3!
So far, the teams have been performing very well! With more practice and games, the teams will hopefully get more wins under their belts. Good luck Tigers!!