Super Bowl Sunday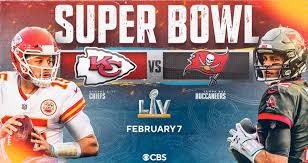 The time is finally here, we are just days away from the most watched sporting event of the year, the Super Bowl. The 55th Super Bowl will be this Sunday, with kickoff time set for 5:30 p.m. A great game is anticipated as the Kansas City Chiefs and the Tampa Bay Buccaneers will face off. 
This year's Super Bowl might go down as one of the best quarterback matchups we have seen. Both Patrick Mahomes and Tom Brady are without question, the two best quarterbacks the league has to offer. 
Not only are the quarterbacks going to be the ones to watch, but the weapons each of them have at their disposal. Players like Mike Evans, Chris Godwin, Leonard Fournette, for the Buccaneers and Tyreek Hill, Travis Kelce, Clyde Edwards-Helaire, for the Chiefs, are also the ones to watch. This game will be close and high in scoring.
Tampa Bay's defense has been looking extremely better as the playoffs have progressed. They alone were able to stop one of the league's best offenses in the NFC Championship, especially when their offense began to struggle. 
Though they don't get much of the spotlight, Kansas City's defense is way improved from last season. They are led by safety Tyrann Mathieu and defensive lineman Chris Jones. This unit was able to get the job done last time these two teams faced off, it's going to be interesting to see what they come out and do this week. 
Pete Prisco, CBS sports analyst reported, "The Bucs and Chiefs are going to stay true to their aggressive natures. Patrick Mahomes and Tom Brady are going to make big plays in a shootout." 
With the style of play and way both these offenses play, we can all expect a lot of scoring. Who wins the game is going to come down to who's defense makes the biggest play. 
I can see this game going either way, but because of the Chiefs all around experience and already being in this spot last season, I'm choosing the Chiefs to win the Super Bowl. 
Regardless of how things turn out, this will still be the biggest televised sporting event of the year. There's something for everyone to enjoy whether the game, commercials, or halftime show. Make sure to clear your schedules for Sunday, cause this matchup will not be the one you want to miss.