Annual Pink Heals Volley for the Cure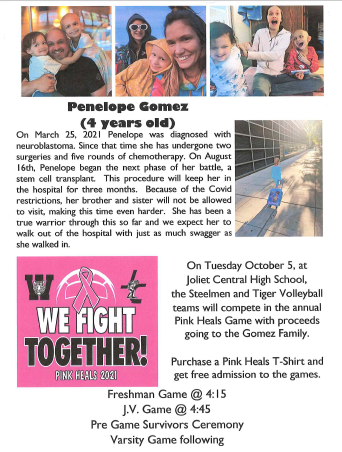 Pink Heals is a Joliet West known event held by the Joliet West volleyball program. In support of breast cancer the girls dedicate one game of the year and fundraise for breast cancer survivors. This year's game will be on October 5, 2021 against Joliet Central, at Joliet Central.

Since 2008 Joliet West has put a spotlight on a specific family.This year Joliet West and Joliet Central honor the Gomez family. Penelope Gomez, who is four years old, was diagnosed with neuroblastoma on March 25, 2021. She has been through several rounds of chemotherapy and two surgeries. Penolope went into her next phase of treatment in August 2021 which will cause her to be hospitalized for the next three months. Due to covid, Penolepe can not see her brother and sister while hospitalized. Which makes these times for the Gomez family even more trying. 
In support, JTHS has decided to sell t-shirts for $15. These t-shirts will be sold at the event and can be used as a free ticket for entry to the game. All proceeds will go to Penelope and her family.

Alan Mart, the head volleyball coach for Joliet West shared, "The Pink Heals event has been a part of our JT volleyball programs since 2008. It has a special meaning to all that have been a part of our volleyball family.  We honor all cancer victims, both those that are survivors as well as those that have lost their battle. It's a great event that raises money for families in our Joliet community."

The Gomez family are always in our thoughts and prayers and we hope to honor them and support them as much as possible at the Pink Heals game this year, October 5 at Joliet Central. Come out and support!