New year, new rules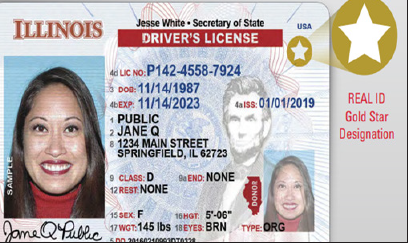 The state of Illinois is going to put into effect the Real ID in the start of October 2020. Although this was already in effect in many other states, Illinois is the next one to join the list. To fly domestically within the country, it will be required that you have a passport or the Real ID. The Real ID looks like a state ID but has the presence of a small yellow star in the corner. This will be required for those 18 and older. Many offices will expand their hours to accommodate for the large amount of people coming in to get their Real ID. According to the office of Illinois secretary of the State, "All driver service facilities are issuing REAL IDs, with the exception of mobile units and express facilities (Diversey, Lockport, Orland Park, Rockford Auburn St., Roscoe and Washington)." This will make it easier for people to have access to the Real ID.
The Real ID may cost the same as a state issued ID but has a difference within the documents required in order to obtain one. In order to obtain a Real ID, you must have proof of identity such as a birth certificate, your social security card, two proofs of residency, and a written signature. All of this you must bring with you to the DMV.
Besides the Real ID, there will be several changes to driving costs and laws. Since the first of January 2020, Illinois has put into effect the Drop it and Drive law, which states that drivers are no longer allowed to watch and stream videos while driving. One might also notice the presence of more cameras along highways in Cook County; law enforcement will have jurisdiction over these cameras. The fine for passing a stopped school bus while it's stop arm is out will increase by double.
It's important to be mindful of the new driving laws as they are important for not only your safety but the safety of those around you.
As for the Real ID, there's still time to get yours before it's put into effect. There's also no penalty for not having it, but it is very convenient for those who often travel within the country. It would be suitable to get it sooner than later when the lines become longer than they already are!