Two supreme court justice's dissent put a risk to same-sex marriage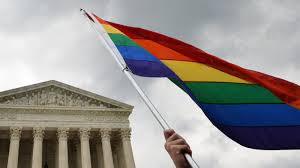 On Monday October 5th, two supreme court justices, Clarence Thomas and Samuel Alito, made comments regarding the case Obergefell v. Hodges and same-sex marriage that put fear into the minds of LGBTQ+ people across the country, and proved the battle for LGBTQ+ equality is still ongoing. 
The supreme court denied an appeal by Kim Davis, who served as a Kentucky clerk, following being sued for refusing to give out marriage licenses to same-sex couples. While the appeal was denied, justices Thomas and Alito had dissenting opinions accompanying the action. While they agreed not to hear Davis's case, they commented that Davis "may have been one of the first victims of this court's cavalier treatment of religion in its Obergefell decision" and that "Obergefell will continue to have 'ruinous consequences for religious liberty'." Thomas and Alito both have history of other comments in support of religious freedom over LGBTQ+ rights, specifically in the case Obergefell V. Hodges.
Obergefell V. Hodges, the case that decided same-sex couples have the same right to marry as opposite-sex couples, was ruled 5-4 in 2015. Thomas and Alito dissented on this ruling, with Alito expressing concern with the ruling, saying those who disagree with same-sex marriage "will risk being labeled as bigots and treated as such by governments, employers, and schools". Justice Thomas stated both that Obergefell V. Hodges "invites judges to do exactly what the majority has done here—roa[m] at large in the constitutional field guided only by their personal views as to the fundamental rights protected by that document" and that  "liberty has long been understood as individual freedom from governmental action, not as a right to a particular governmental entitlement" Thomas and Alito's history of dissent in Obergefell V. Hodges combined with their recent opinions on Kim Davis's case creates a concerning image regarding LGBTQ+ rights in the future.