America's youngest generation can now vote: Are you registered?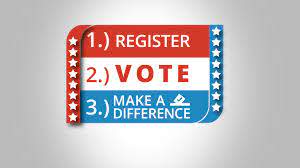 Jordyn Bew, Entertainment Editor
September 15, 2020
As the 2020 election draws closer, America's youngest generation, known as Gen Z, is motivated for political change. Now more than ever, teens and young adults are involving themselves in politics. Some teens are even eligible to vote. 
 In Illinois, according to usa.gov, "To register, you must be at least 17 years old on or before the date of the primary election and turn 18 on or before the date of the general or consolidated election." There are a few ways to register to vote as well. Illinois offers online voter registration. You can register by mail to vote in Illinois by printing a voter registration form, filling it out, and mailing it to your local election office. You can also register to vote in person if you prefer. According to the Pew Research Center, one-in-ten eligible voters in the 2020 electorate will be part of Generation Z. Young voters are needed more than ever in local, state, and national elections.
Young people commonly ignore the importance of elections but, on all sides of the spectrum, their voice is a significant one. Key problems in any election are particularly linked to the needs of students and working adults between the ages of 18 and 29, making it necessary for participants of that age range to inform themselves about political topics and head to the polls.
Many young people claim to feel as though their vote doesn't count as their justification for not taking part in elections. Before the 2016 election, Millennial's described feeling overwhelmingly dissatisfied with both presidential candidates, and as a result, many decided to sit out entirely. Perhaps more than ever in an America divided, every vote counts, particularly those from one of the largest voter groups in the world. In our country, involvement in politics is a hard-won right. 
Some experts argue that young Americans with the potential for affecting political change don't exercise the right to vote as often as they should. Some even recommend reducing the voting age in an effort to encourage early voting by teenagers and young adults. Creating a relationship with the political process as early as possible is crucial to making voting a lifetime habit. If you're a returning voter, you're less likely to skip a voting trip in the future. This habit-forming is essential to shaping policies and electing politicians who serve the interests of voters of all ages.
You may feel that choosing a president or a senator is just not something that right now affects your life. You may not be dealing with problems such as tuition fees or seeking a full-time job yet. Growing up presents many new obstacles, such as education, marriage, owning a home, paying for your health care, and/or beginning a company, any of which could dramatically shift your political perspective. While you can not guess who or where you will be in four years, you can be confident that in the coming months and years the government officials elected to office and the policies they enact will affect your life. Why not have a say? Speak up, make a decision, and participate in the election to exercise your rights.