The unnecessary censorship of books at the high school level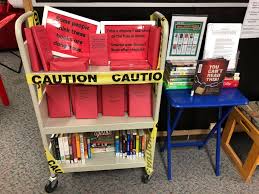 If you asked me what I thought of books, you'd likely be victim to a nerdy raving of how bound sheets of paper are the most magical and fantastical gifts to the modern world. So when I heard that in the year 2020 the Alaskan school district of Matanuska-Susitna Borough, banned a slew of important literary works, I was a tad bit upset.
The Alaskan School Board ruled American classics like I Know Why the Caged Bird Sings and The Great Gatsby to be too controversial, subsequently removing them from their school's curriculum. The big wigs justify the move by citing instances of sexual references, graphic language, and other areas of "concern".
In the case of I Know Why the Caged Bird Sings, Maya Angelou's seminal memoir, the board felt the work was too "sexual" and possessed "anti-white messaging". The sexual gripes were shared by F. Scott Fitzgerald's magnum opus The Great Gatsby.
Other banned books included: Invisible Man by Ralph Ellison, Catch-22 by Joseph Heller, and The Things They Carried by Tim O'Brien. These pieces were labeled to be inappropriate because they contained mentions of rape, incest, racial slurs, profanity, and misogyny.
Coming from a student, this seems like a lot of hoopla. Advocates against the banning include Ms. Welton of the Matanuska district, stating, "The societal issues brought forth in all of the books reflect the continued need for people to learn about experiences other than their own.  Protecting students by hiding the issues or ignoring the issues does not help or prepare students for the world they inherit."
I couldn't agree more. The unnecessary censorship of books at the high school level is dumb. We are students at the cusp of adulthood and denying us the right to experience certain things will have us ill-equipped to cope with life's greatest hurdles. This doesn't even touch on the lack of empathy and understanding students will have if they are denying exposure to these great works of literature.

The books are no more graphic than mainstream movies and television shows that clog our VCRs and streaming platforms. It's nothing new to students, but the censoring and banning books from older periods is a disservice to those who look to learn from the past. 
Thankfully, residents of the district acknowledge the need to consume such books; hence, the "Mat-Su Valley Book Challenge" came to be. Started by DanaLyn Dalrymple, a local lawyer who has a son in high school, the movement is to raise awareness against censorship while respecting the history of American literature.
Participants who read all five of the banned books will be entered to win $100. Darymple plans to pay out multiple payouts to motivate students to take a stand and celebrate great works of fiction.