Barbie and diversity: Road to disabled representation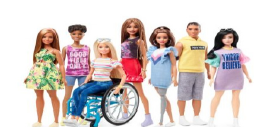 Mattel has recently announced the launch of two different disabled Barbie dolls, set to debut in June of this year, in an attempt to create a more diverse line of dolls.
Originally put on the shelves in 1959, the Barbie brand was the image of perfection for young girls from the day they saw one of the bright pink boxes on the shelf. Traditional Barbie dolls were blonde-haired, blue-eyed, thin and beautiful girls with unrealistic body proportions. These dolls were developing unrealistic beauty standards in girls' minds from a young age. The term "Barbie" took on a negative connotation as it became a tool to shame young girls for their bodies.
In 2016, Mattel aimed to stray away from this reputation by releasing a more diverse line of dolls featuring three body types- Petite, Tall, and Curvy- as well as a wider range of skin tones, hair colors, and hair textures. In fact, Mattel went above and beyond by launching 7 skin tones, 22 eye colors, and 24 hairstyles. The change came as a way to reflect beauty coming in all shapes and sizes.
Three years later in 2019, Mattel announced two newdisabled Barbie dolls set to launch this year: a girl in a wheelchair and a girl with a prosthetic leg. The dolls, which are part of the Fashionistas line, aim to reflect the diversity of women in the real world. According to the Daily Mail, the company had previously debuted a limited edition Becky the Paralympic Champion in the 1990s, as well as Share a Smile Becky (also in a wheelchair) in 1997. However, both dolls were discontinued, making the 2019 dolls the only two disabled models currently in production.
The Global Head of Design for Barbie, Kim Culmone, said, "This year, our Barbie line will include dolls reflecting physical disabilities in order to better represent the people and the world kids see around them." She also added, "Our commitment to diversity and inclusion is a critical component of our design process and we are proud that today's kids will know a different image and experience of the brand," when speaking to ABC.
Although the dolls are far from perfect, they have certainly come a long way from the tan, blonde doll that turned into a way to body-shame children. Hopefully, Mattel will continue to make strides in representation in their toys and help children see beauty reflected in dolls that look like them.