Just Read it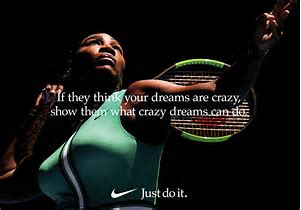 Nike has been in the public's eye recently with their ad campaign Dream Crazier, released on February 24th of this year. The campaign focuses on how the media perceives women, and eventually showing women empowerment. This is not Nike's first time making such a huge message. Let's take a role down memory lane, shall we?
Nike has taken a stance on issues such as police brutality with Colin Kaepernick in 2018 and disabled people With Matt Scott in 2007 and this is not their first time tackling gender equality. There was a campaign in 2012 which tackled this topic as well. Overall, Nike has tackled very controversial issues that needed to be brought to the forefront, and it refreshing to see a company with such a huge platform to bring awareness to these problems within our society.
What is important to realize is that Nike pushes the envelope and continues to tackle social issues that are often swept under the rug. This company's use of advertisement inspires others and also promotes their brand in a clever way. This is more than a shoe brand, this is a brand that continues to bring light to political topics that start a conversation.
Overall, Nike is to be applauded for their boldness and how they deliver their messages. Everything from the lighting, the noise, and even the person giving the commentary and being the voice of the commercial is all chosen very carefully and is purposeful. This company cleverly draws in the watchers attention. Instead, of clicking past this ad in YouTube they often just watch it (pun intended). This women empowerment commercial was just one ad of several that speaks upon a greater issue.