John Green Creating Another Bestselling Novel?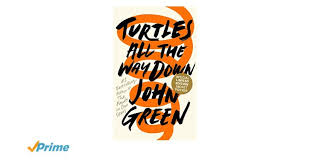 Bestselling author of The Fault In Our Stars, John Green, is releasing a new book on October 10th, 2017.  The book is titled, Turtles All The Way Down, and is about a teenage girl, named Aza Holmes, who is attempting to search for a fugitive billionaire while she grapples with her mental illness. This will be Greens first release since The Fault In Our Stars.
Many of Green's fans are excited for this release, and expect the book to be as good as previous fan favorite releases from Green, such as, Looking For Alaska, An Abundance Of Katherines, and many others. The book will be Green's 5th solo, and 7th all together. He released information on the book at VidCon 2017, which is co-founded by him and his brother, Hank.
This book will be a huge step for Green, since the protagonist struggles with the same mental disorder he has, Obsessive Compulsive Disorder In multiple interviews, Green states that it's been a huge struggle his whole life, he also says in one of the interviews, "This is my first attempt to write directly about the kind of mental illness that has affected my life since childhood, so while the story is fictional, it is also quite personal." Many can probably relate to Greens' every day challenges, and are looking forward to the personal insight that he has put into the new book.
Green's readers have been anticipating another book, with all the bestsellers he's had so far, this one should be nothing short of outstanding. A fan of Green, Kaitlynn Mazur, believes that, "He makes the characters realistic, with still leaving in the basic romanticizing that makes his books what they are." Many expect his new book to be a good look into the life of what he lives with every day, and that makes this book stand out more than some others he has written.
The books plot follows a 16-year-old girl struggling with obsessive compulsive disorder, and her search for a fugitive billionaire. Green also mentions that the plot will contain tuatara, Star Wars, and fan fiction. Whether young readers have read any of Greens books or not, it's always refreshing to read about realistic people dealing with realistic problems in their everyday lives.