Morgan Beene: Setting a good example among her peers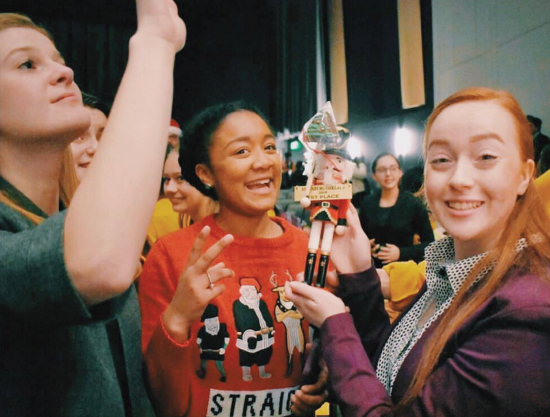 No matter what group of friends you're around, there's always one person to be the voice of reason. In this case, it is Morgan Beene.
Beene is a senior at Joliet West High School, where she is the speech team captain, a board member of the National Honors Society and a part of Students of Service. In NHS, Beene does community service with friends, where she looks for community service opportunities, organizes fundraisers and helps others meet their service hour requirements.
Being the Speech Team Captain, Beene has to be a good role model for her teammates and keep up team morale whenever they're feeling down.
With this past 2018-2019 Speech season, Morgan Beene has helped her teammates come closer together due to their many victories thoughout the season; with a 5 week winning streak. This is by far the Spech team's most successful season to date. Since Beene has to deal with work, school, extracurricular activities and life in general, readers may think "how could such a person can juggle all of these tasks?" It just so happens that Morgan relies on 2 things in life: "I get by." "My days are a pattern; most days I stay after school… I mostly rely on sleep and root beer." This is due to a genuine obsession with the popular drink and the natural need for sleep.
With this, Beene is described as a wonderful example of what a student should be, considering how responsible she is. One of Morgan's teachers, Mrs. Blake, had this to say: "[Morgan is reliable yet determined; when she makes a goal, she puts in the work, the hours and works until she has served her cause". This is due to her determination to be the very best at whatever she is tasked with.
Beene is the kind of person you turn to when you need a hand or someone to bring joy to your life. Beene has been trhough many haeartships trhoughout her past high school career. Of course she has herfalling outs of stress, however she is strong enough to realize that she needs to be better and to work harder. Thats not just for her fellow teammates, but shedoes it for herself.
Beene knows that life is hard, but she gets up from her falls and rises to the occasion. She's the one who will help you through anything no matter the cause. Beene would never let you down as she's kind, admirable, loves to laugh and is a perfect example of what a student should be.