Looking Back at the Chicago Bulls 1st Round Draft Choice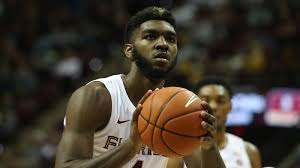 Last month was the first ever NBA draft to happen in November. That was due to the season getting extended into the middle of October. The draft symbolizes hope for each team as they all have one goal, to win a NBA championship. This year the Bulls were fortunate enough to have the 4th overall pick. With that pick the Chicago Bulls selected Patrick Williams, the 6"8"", 225 pound small forward from Florida State.  
With other draftees still on the board like Deni Avdija, Isaac Okoro and Obi Toppin, concerns of if Williams was the best option available have surfaced. Ricky O'Donnell, a SB Nation writer and draft analyst wrote, "Williams is the youngest American born player in the draft, didn't start a game at Florida State, and likely won't provide the type of scoring teams look for with a top 5 pick." This definitely could have been a swing and miss from the front office, but maybe not when you look at his upside. 
Though Williams never started a single game in college, he sure was able to produce off the bench. His freshman year, he averaged 9 points, 4 rebounds and 1 assist per game. His big frame allows him to have a presence in the paint and run the floor in transition. Florida State's head coach Leonard Hamilton told NBC Sports Chicago, "Williams finished games, how many guys do you know who are physically ready at 19? Williams could not be in a better situation, where the coaches already know what to expect from him." Williams will likely be competing for that starting small forward position with Otto Porter Jr. He will definitely bring a defensive presence and pair up nicely with the young core the Bulls already have. 
Though it is too early to tell how Patrick Williams will pan out, all we can do is wait and see. The Bulls are set to begin the season on December 23rd, against the Atlanta Hawks. They will be set out to try to make their first playoff appearance sense 2017. As a fan, I know I'm excited for Bulls basketball, are you?