Joliet West Senior Wrestler Wins National Award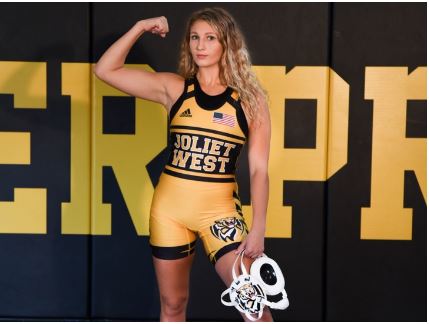 Louisa Schwab was awarded the Tricia Saunders High School Excellence Award, from the National Wrestling Hall of Fame. 
    The award recognizes the nation's most outstanding high school female wrestlers. Tricia Saunders was a four-time World Champion, and it was first awarded in 2014. Winners are selected based upon standout performances, sportsmanship, academic honors, and participation in other activities. 
    When asked about her thoughts on receiving such a prestigious award Schwab responded, "I'm honored to be acknowledged among so many other amazing athletes. It is extremely exciting to see how my hard work is noticed by others."
    Women's wrestling is one of the fastest-growing sports in high school. More than 27,000 female wrestlers are competing throughout the country. With 81 women's wrestling teams at the college level, the NCAA has approved "Emerging Sport Status" at Division 2 and 3 levels. Hopes are that Division 1 will follow this summer. 
    Coach Chuck Rumpf added, "Louisa has been such an important part of our wrestling program, her name will forever be in the Joliet West Wrestling history books. I can't wait to see what she accomplishes next."
    Louisa will be honored at the state chapter's banquet on October 18. She will be continuing her academic and wrestling careers by attending Menlo College in California.