Girls keep the ball bouncing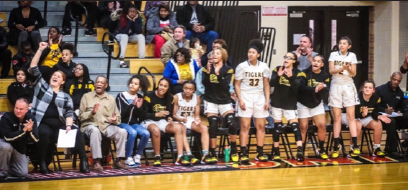 Our very own lady tigers are now currently 17-3, and 8-1 in the SPC. The varsity team looks very good now, and it also looks like they will have a very promising future.
The lady tigers freshman guard Lisa Thompson, who recently won the Darcy Herald News Player of the Week. The girls varsity team, led by star player Jazz Evans, has also recently won the Sandburg Holiday Tourney. In the championship game against Sandburg, Jazz led the lady tigers with 21 points followed by Lisa Thompson with 19 points. Grace Walsh also finished the game with 12 points. Jazz Evans and Lisa Thompson were on the All Tournament Sandburg Holiday shootout team, with Jazz Evans being named the Most Valuable Player of the entire tournament.
The lady tigers just recently defeated the Yorkville Foxes with a score of 54-40 for their 17th win. During this game, they were led by Jazz Evans with 21 points, followed by Lisa Thompson with 16 points and Akeisha Watson with 8 points. The lady tigers are on pace to be well over .500 this season.
I went to interview their star player, Jazz Evans, to ask her a few questions. When I asked Jazz how she thinks the season is going, she said, "I think the season is going pretty good and our record is good." When I asked her how her season is going, she replied, "I think it's going well for me and we have been playing well as a team. Our main goal is to win a sectional and get 20+ wins as a team." The team looks to continue to have success and the Tiger Tales staff wishes them the best of luck.
The girls are coming off a 59-44 win against West Aurora last Thursday the 23rd. Their next game is against Providence Cathloic Highschool on Monday the 27th, here at West, at 6:30 p.m. start time. We wish the best of luck to the Lady Tigers as they look to finish their second half of their season strong. For announcements about the team, visit @JWGirlsBball Twitter.