Cheerleaders hope to bounce back at state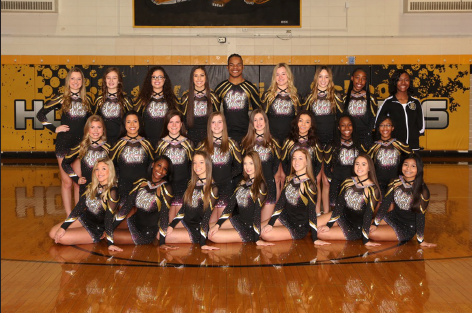 Joliet West is known to have an amazing cheerleading team, seeing as they are two-time state champs and they have been runner-up in the past. Going to state is a huge accomplishment itself, but winning state is a whole different ball game. Joliet West's cheerleading team has always been great and has the potential to win state every year. Its that time of the year again. The competitive cheer season has started and is already nearly over.
This past December, the cheerleading team attended two competitions, not including the annual Joliet West fest. December 7 was the first competition and was held at Reed Custer High School, where Joliet West varsity and junior-varsity received 3rd place. The next stop was held a week later on December 14 at Lincoln-Way East; Joliet West varsity received 5th place and junior-varsity got 4th. The famous Joliet West Fest was held a week after the Lincoln-Way East invite.
It has been a rough season from the beginning for the team. As we all know, the former head coach, also known as Amy Diforti, decided that last year would be her final year coaching. Her then-assistant coach, Nicole Cracraft, announced that she would be glad to step up and take on the challenging task of being the new head coach. Sadly, there were some family issues that caused her to step down the day before the varsity team's first practice, which meant there was no actual coach. junior-varsity coach Raven Moore filled in while the school was searching for a new varsity coach. Eventually, Raven Moore decided that she would step up to the plate and become the full-time head coach. This decision left the junior-varsity team coachless; Moore had been coaching both teams while the school was searching for a new junior-varsity coach.
Raven Moore is a Joliet West alumni, she was coached by Diforti for all 4 years. Although she has big shoes to fill, it doesn't seem like there will be a problem. The varsity team is now coached by Raven Moore and Janelle Johnston. Joliet West's next competition is a Lockport invite on January 18. Conference this year will be held at Minooka on January 25. Right after conference on the 26, West has an invite to Huntley. That leaves Sectionals, which will be on February 1. The location has yet to be announced.
This team has been through a lot. There is a lot of potential for them to become three-time state champs; it's just all about working for it. Joliet West cheerleading has a reputation to uphold. They've always been the best and this year will be no different. The struggles that they've faced will only make them stronger. Come out and support your Joliet West cheerleading team at their last four remaining competitions before state!