Homecoming game victory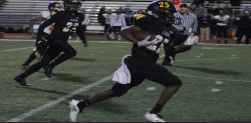 With the season coming up on its half way point and the last home game of the year, the West Tigers need to rack up some wins. To keep hopes of playoffs in their sight, the Tigers are going to have to go on a huge win streak. This is easier said than done, after already facing a couple tough opponents, including at the homecoming game.
Joliet West faced the Plainfield East Bengals on Friday, September 28, at 6:30PM. The homecoming game is always one of the most attended games of the year, and this year was no exception. The stands were packed for this exciting event.
No amount of bitter cold or wet bleachers from the earlier rain could dampen the spirits of Joliet West. People of all kinds came together to celebrate homecoming and support what united them: the Joliet West Tigers.
The Tigers made the first touchdown of the night and kept the momentum going throughout the rest of the game, eventually winning the game by a score of 17-10.
When asked about what he thought about this year's homecoming, Mr. Marco said, "The true positive spirits of the students and alumni of Tiger nation will be at the forefront of this wonderful event."
As of publication, the team has a record of 2 wins and 4 losses.
The Tigers will play against the Plainfield Central Wildcats on Friday, October 5.
Tickets to away games cost $2 for students and $5 for adults at the gate.