First big piece of the puzzle for the White Sox unfortunately comes too late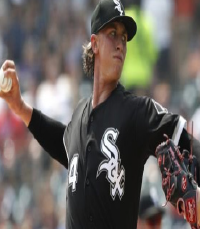 Just like students are starting the new year, Michael Kopech is beginning his major league career with the Chicago White Sox.
Michael Kopech grew up in Mount Pleasant, Texas, where he attended Mount Pleasant High School. After high school, Kopech went to the University of Arizona, with hopes of being drafted in the MLB.
In 2014, Kopech was drafted by the Boston Red Sox in the first round and went to play his first two years in their farm system. The Chicago White Sox traded their ace pitcher Chris Sale to Boston for Michael Kopech and Yoan Moncada. This was one of the first big trades that the White Sox made with hopes of starting a successful rebuild.
Yoan Moncoda only spent one year in the farm system and made his major league debut last year. Michael Kopech was called up to the White Sox on August 19 of this year. He made his debut on August 23.
Even though his debut was cut short by rain, he pitched 2 innings, 6 outs, 1 hit batter, gave up 5 hits, and 0 runs. The pitches were looking sharp with a hard cutting high 90's fastball, late breaking 80 mph curveball and a surprising 91 mph straight change. The outing brought the biggest crowd of the season to Guaranteed Rate Field.
White Sox manager Rick Renteria was very impressed with Kopech's outing and said this: "Got into a little traffic in the second and the sixth, worked out of that bases loaded jam. Fastball looked good, think he mixed in five changeups."
If you think that Kopech is talented, the White Sox have a lot more young, talented players in the farm system.
Disappointingly, Kopech tore his UCL a few starts after his debut, keeping him out until 2020. The goal for his recovery is to be back by 2020 to start the season and come back better than ever.
This should not alarm White Sox fans due to the huge amount of talent that is still in the farm system. In the next couple of years, the White Sox are going to surprise many people and are going to have a very bright future.