Three Strikes, you win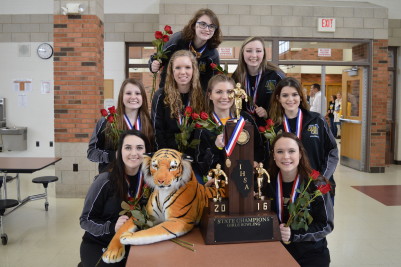 People are often taught from a young age that winning is not everything. What is important is to have fun when doing the activities one loves. Whether one is doing an activity, a sport, or any type of competition. The Joliet West Girls' Bowling Team bowl because it is fun. However, as it is a competitive sport, they are also there to win. They qualified for state the past two years and this year, winning state.
February seems to be the month for success in the sporting world for Joliet West. With the Varsity Cheerleading Team winning state, then Matt Pesavento being the first guy to be sent to state for Boys Bowling, and now Girls Bowling qualifying and winning state. Junior Ashley Lindstranel stated, "We were just so happy for Cheer to win state, and for boys bowling to send their first person to state that we were just pumped I think. All that pride in our school really helped us win state."
To go to state for bowling is not an easy task. There are six games at regionals, then the team's total score is added and they have a chance to go to state as a team. But also if someone on the team has a very high average for those six games, the team can send that person as an individual to the next level. This creates potential for an extremely talented individual to ascend from regionals, to sectionals, to state without the entire team. That was not the case, though, with girls bowling at Joliet West this year.
The Joliet West Girls Bowling Team consisted of eight girls: Gracie Plese, Melissa March, Kaylee Zukivich, Karlee Barton, Alexis Wagher, Emily Peirce, Taylor Bailey and Ashley Lindstranel.
Some interesting things the girl bowlers learned during their state series included a few fun facts about the history of bowling. When a bowler gets three strikes in a row, a strike being when a bowler knocks down all the pins on their first try, it is called a turkey. This was originally named that because when a bowler would get a turkey it was such an outstanding achievement that they would be given a turkey to cook, ripe and ready for their Thanksgiving feast. Also, when a bowler bowls four strikes in a row, it is called a ham because the bowler would be given a roasted pig, apple in its mouth and all.
It is important to stay humble even when gifted with fame. This is embodied by the girls bowling team. At the assembly to celebrate the team, this was proven during one speech when Melissa March said, "I would like to thank my legs for always supporting me, my arms for always being at my side, and my fingers, because I can always count on them." This shows that the girls on the bowling team have stayed humble in their rise to Joliet West sportsman fame.
The humble group loves the fact that they were able to win state for all the seniors on their team. Karlee Barton stated, "To go to state was fun, and to win state was unexpected for sure, but I knew if we tried and worked off we could do it. And look where we are now!" She bowled an average score of 199 out of a perfect 300 at regionals, sectionals, and state. She joked "I am just very consistent and 199, I guess it is meant to be." She, like many girls on the team started bowling very young. Barton added, "I have been bowling since I could walk, with bumper lanes then of course, so I must of been only four."
In all this could be easily seen as an amazing achievement for the bowling team; one they hope to replicate in the near future.