West runs Friday night game plan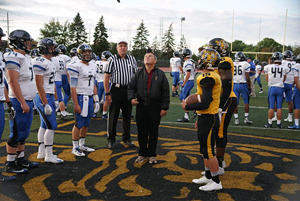 What does it take to pull off a Friday night football game? A lot of planning, coordination, and hard work, according to Joliet West Activity and Athletic Director Steve Millsaps.
Planning for home football games starts months in advance. "At the beginning of the year, I put down a supervision and security schedule," Millsaps described, explaining, "So, how many police we need for the event, how many workers…"
Workers, he elaborated, include announcers, scoreboard operators, police, and security. In addition to the Joliet Police Department, the Joliet Fire Department is present for safety purposes.
"We also have to make sure that the…Joliet fire department has been notified, so they bring the ambulance," Millsaps stated.
The next step in planning a game is organizing ticket sales. "For a Friday night game, since we have a pre-sale, we have to set up pre-sale dates," Millsaps said, continuing, "Two weeks before [the Friday night game], we set up the pre-sale [and] make sure the tickets are ordered."
Students can purchase tickets from the Joliet West Bookstore. At this point, dates are also set for the community to buy tickets from the Joliet West Athletic Office.
Next, the visiting team needs to be contacted. "The Monday [before the game], the information to the opposing team is going to be sent out. They send us their roster, they need to send us a pass list for their patrons…their administration," Millsaps described.
The two schools also have to coordinate where the guest team will park their busses, where the West visitor's locker room is, and where visiting coaches will go when they arrive at the school.
On the day of the game, "We usually have a pregame party in [the Field House]," Millsaps explained. While students attend the party inside the school, staff work to set up for the game outdoors.
Millsaps detailed that workers set up the field, concession stand, and tailgating area. He concluded, "About an hour before the game, that's when we start letting people in."
In addition to planning for the actual game, Millsaps coordinates the cheer and poms teams and the band for the 15-minute halftime performance.
About the careful planning that goes into each event, Millsaps reflected, "You can control how you respond to [difficult] situations, make sure you're prepared, and that's what we always have to be."
"It's stressful sometimes, but we've been doing this pretty good for a long time," he expressed.