Joliet XC strides for success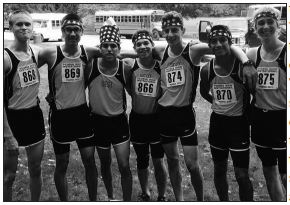 Running is the type of sport that constantly tests your mental and physical strength. Day in and day out, miles are put in with the hope of racing a new PR or giving it your all on a tough course. The 2015 Joliet West Boys Cross Country team is a perfect example of a team that never stops working.
Coached by Brian Newman and Coach Conard, the Boys Cross Country team has been working since the summer. "Hope for cross country starts in June," Newman stated. "Coaches look at who shows up, and then they begin projecting outcomes. Then school starts, and we think about how much guys have improved in the past based on whether they started in the summer or whether they started when school begins."
Just like every team, there are student-athlete leaders who embody just the right qualities to help lead the team. The two captains for the 2015 cross country season are seniors Dylan Deardurff and Mario Scarcelli. Deardurff has been running since sophomore year and has a personal best of 15:39 for three miles, and Scarcelli has been running since 6th grade and has a personal best of 15:25 for three miles, these guys have a similar mindset as Coach Newman.
"I feel like this is the greatest team I've ever been on. I couldn't ask for better teammates or coaches. It's the perfect combination." Deardurff stated.
Scarcelli also shared, "So far this year I've grown to love our team. We have had such a variety of guys that come out for cross country, it's really hard to not like them. Running wise, I can't believe how much we have improved."
Because of the great relationship this team has, there is no doubt they will work together to accomplish their goals, whether they are personal or for the team. With postseason nearing, their chance of achieving their main goal of making it to state is just around the corner.
With the summer training and will power all taken into consideration, Coach Newman has one goal in mind for the Tigers. "Our goal is to go to state as a team. If we are healthy, focused, and relaxed, then we have a shot at advancing to State for the first time in Joliet West Cross Country history. That's the goal. Nothing less."
So, what should people know about the Boys Cross Country team and about the guys who run miles upon miles to get better? Coach Newman, Deardurff, and Scarcelli have the perfect answers.
"People should know that effort and attitude contribute so much to winning. Teams can win in spite of them, but they do a lot better when those things take care of themselves." Newman shared. "Coach Conard and I are so proud of this team, and we know that whatever we accomplish in the postseason will be because of the way our varsity guys have carried themselves all year. They will truly be missed next year. For now though, we're focused on making this year as memorable as possible."
Similarly, Deardurff wants people to know just how great this team is. "People should know this is the greatest team and sport to be a part of. We always find a way to have fun no matter what it is. We're those types of guys."
"One thing I would love other people to know about Cross Country," Scarcelli stated, "is that it's easy to get into it, but hard to be good at it. Everyone is welcome to try out, we just want people that love to run and get faster."
The 2015 Tigers are ready for the postseason to show that hard work does pay off. With persistent motivation, these guys want to succeed, and with every stride they get a little closer.