Mr. September: Meekah Ben-Isreal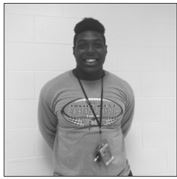 Meekah Ben-Isreal has been playing football for 10 years and has major plans for his future. The senior middle linebacker has been chosen for this year's Mr. September for his motivation and hard work on and off the field.
Meekah has plans to play college ball at any D1 or D2 that has interest in him. Many players have this goal, but Meekah will accomplish it by continuing to work hard and staying motivated.
His biggest inspirations for football are NFL player Patrick Willis and college player Paul Dawson. Both players show true football talent and continue to be an inspiration to players like Meekah everywhere.
Meekah started out playing football like many other young kids. He wanted to be follow in his older brother's footsteps, so he started playing football just like him. His brother played for Joliet West and was a role model to him in that way. He balances his school work and being a star athlete by doing his work in class and staying driven. "People are just too tired to do it, but me, I just push through it," he explained.
This isn't an easy task. Last year the Joliet West varsity team made it all the way to playoffs, and Meekah and his team have the common goal of making it back and "taking it by storm" this year.
Meekah is different from every other player. He said, "My drive and passion for it, I love football whether I'm sick, whether it's hot, whether I'm in the stands or on the field. I love the game and what it does for people in many hidden and unhidden ways."
Meekah has the passion and drive that will take him to the next level and help him succeed in his college career. No matter what obstacles Meekah may face, he will overcome them with his motivation and hard work.