Miss September: Tyeler Delrose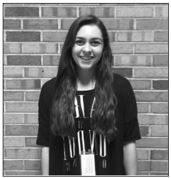 Tyeler Delrose, a senior at Joliet West, has been a dedicated cheerleader for 10 years. She possesses talent, strong mindedness, and extreme determination, making her a perfect fit for West's Miss September athlete.
Delrose is inspired by people like Addison Locke, who fought every day for her life. Delrose said, "I battle for her now," on the floor and throughout life. She uses practice as a "break from reality" to escape the world and work with her team and to achieve a common goal.
Although Delrose doesn't see herself going far away for her first 2 years of college, her teachers and coaches think she has the ability to succeed anywhere that she does decide to go.
"I want to be home until my little sister is out of high school. I want to see her excel in sports and be with my family a little longer and enjoy high school cheer while I can," she explained.
Delrose has her work cut out for her this season as she bases and flies in cheerleading stunts. Her main goal is, of course, to win state, and to "prove to everyone that West cheer can and will do it." With her mindset always game-ready, Delrose will be sure to work hard to achieve success and obtain her goal.
Delrose stays in shape and performance-ready during the two month off-season by "continuing to tumble, work out, and stretch to stay ready for the next tryout". Delrose started gymnastics as a young girl, and was inspired by a friend to try cheerleading. She instantly fell in love with it. Delrose cheered for the Joliet Raiders, then middle school cheer, and is now finishing her last year of cheerleading at Joliet West.
Delrose feeds on the energy in the gym and loves seeing everyone in the crowd smiling and yelling. She said that she will miss the gyms she has cheered in for the past 4 years as well as her team and all of the fun practices, memories, and friendships she made. Most of all, she will miss her beloved Coach DiForti whom she calls "the greatest coach I have and ever will have".
Delrose balances high school and cheer by remembering that school and education always come first. She will always be remembered as an incredible cheerleader and an amazing person at Joliet West.