Junior Varsity Boys' Soccer sets goals for the future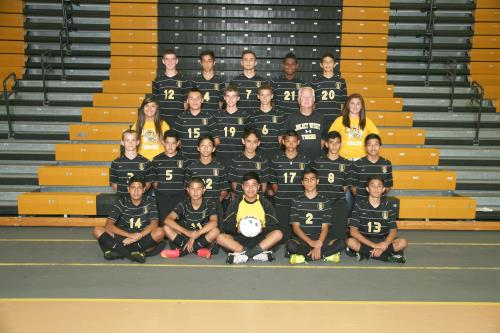 Alex Lopez, Assistant News Editor
November 15, 2015
Whether you want to yell "GOAL!" or simply roar, Joliet West Boys Junior Varsity soccer team will give you the chance. After taking on their freshman year on the team, the boys are ready for more, and are more than prepared to play another undefeated season.
With an astounding 16-0 season last year, they're more than confident to achieve another season like this.
"We're going all the way this year," said sophomore player Jared Jennings.
While the team is still adjusting back into their hectic schedules as athletes and students, they don't seem to have any problem in working towards their goal. They seem to have had no problem quickly switching back into their positions from last year.
When it comes to offense, the boys have no mercy and strike viciously with every chance they get, and they don't just wait around for a hole in wall, they smash their very own and charge in through it.
However, despite their strong charge forward on the field, there were many close calls that were only avoided with the skill of their goalies.
Sophomore Ricky Lopez stated, "Being goalie is a lot of pressure. I have to give it my all. I have to be the loudest because there's more to it than blocking; it also means you call out to your teammates and tell them where to go for the best results."
There is just so much talent flowing throughout the whole team, and the players focus on supporting each other. With freshmen now making the team, the athletes could benefit from admitting the younger player's talent.
They seem to be faithful in their own capabilities as well. A freshman from JV, Rody Torres, said, "I feel like we can make a contribution to the team, so long as we work together."
Teamwork is the least of their worries – the boys have visible chemistry in their plays, demonstrated by many smooth passes and excellent formation.
Although while they admit to enjoy winning, like any other team, they don't think that it's the only way they leave the field satisfied. Salvador Cortez, a sophomore, admitted, "We don't like to win, we hate to lose!"