Prom 2022: A starry night to remember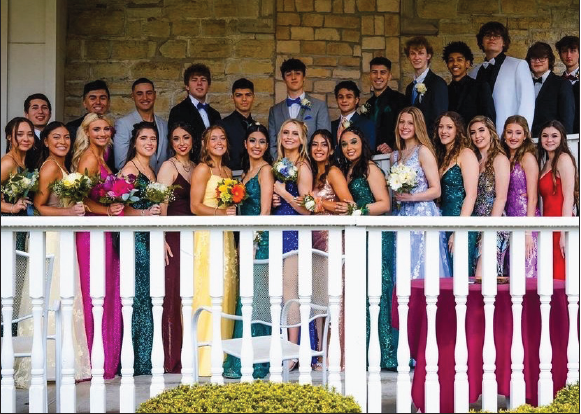 Joliet West's 2022 prom took place on Friday, May 6, from six to eleven pm. The event was held at Tuscany Falls Banquets in Mokena.
The theme for the night was "A Luxurious Night Under the Stars" with the venue boasting many decorations modeled after the Van Gogh painting, A Starry Night. The reception hall was completed with blue accent lights, balloons, and designated photo spots.
"Joliet West Prom was amazing!!!" tweeted chaperone Ms. Diaz. "The kids looked sharp, the music was [fire emoji], and getting to chaperone with everyone was so much fun!"
DJ Sabby headlined the event, playing some nostalgic throwbacks and many modern hits. The dance floor was the center of the event, with students and even some chaperons dancing throughout the night.
Detective Price notably made the most of the music, having fun with students as songs such as "Teach Me How to Dougie" were played. "Looks like Joliet Police Department Detective Price had as much as fun, if not more, as the students dancing at the Joliet Township High School District 204 West Prom this past weekend!" commented the Joliet Police Department on Facebook. "Det. Price is the School Liaison Officer assigned to JT West, and very obviously loves his job and interacting with the students on a daily basis."
Despite the rain and gloomy weather, students made the most of the day. Instead of utilizing outdoor locations, many students opted to take their pre-prom festivities indoors. Popular prom photo spots included the Bird Haven Greenhouse, Jacob Henry Mansion, and the Joliet Area Historical Museum, with many students even setting up their own backdrops at home.
After the unique circumstances surrounding Joliet West's previous two years of prom, the night marked a return of normalcy for many students. "Prom was always something I looked forward to," explained senior Emma Schumacher. "Given the state of our junior prom I was glad that my senior [prom] was able to happen like it normally would."
Following prom, the class of 2022 festivities continued with ditch day taking place on Monday. Senior Awards Night was on Thursday, May 12, with the Senior Dinner Dance on Thursday, the 19. The graduation ceremonies take place on the following Saturday and Sunday, depending on which date seniors selected.