New members inducted into the French/Spanish Honor Society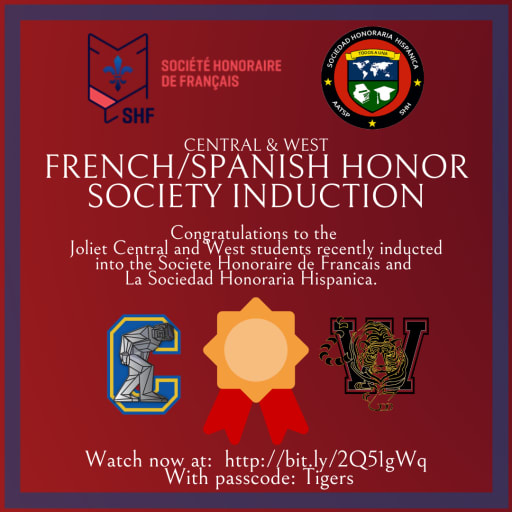 On February 28, 2022, 7 students were inducted into the French Honor Society and 143 students inducted into the
Spanish Honor Society.
Both organizations recognize high school students who display excellence in their Spanish/French studies. To be inducted students must have an A average in the language class and show good citizenship.
The induction was organized by sponsors Jo Anne Bratkovich and Jackelyn Gruniech. Originally the ceremony was supposed to be held in the Joliet West High School Auditorium but due to construction it had to be moved to the library.
The program began with an introduction and the history of the organization followed by roses given to inductees
and senior members. Then the pledge was read by the club sponsors. After that was the invocation and senior members then received their honor cords.
Members of La Société Honoraire de Français : Aaryn Faulkner, Autumn Allen, Angely Donoso, Andrea Donoso, Andrea Franco, Cristian Villasenor Buitron, Etta Sklar, Evelynn Mantia, Jade Barrios, Jon Beltzhoover, Kennedy Dorris, Mayra Gutierrez, Madison Collins, Megan Krok, Miguel Colunga, Nathalie Hurtado, Olivia Eldred, Samantha Hebrard Flores, Terriya Godfrey, Tracey Renteria, Valeria Aguilar Guerrero
Members of The Sociedad Honoraria Hispánic (Seniors): Aidan Renteria, Alondra Marin Ortiz, Anastasia Jones, Arleen Garcia, Britton Clark, Carolina Almazan, Daniel Marquez, Daniela Perez, Diana Rodriguez, Diego Patino, Esmerelda Cisneros, Genaro Zapata, Grace Walsh, Hadassah Del Rosario, Inis Okogun, Isiah Rodel Anes, Isis Perez, Jacob Schmitt, Jacob Seyl, Jesus Mendez Vega, Jimena Nava, Josh Koser, Juan Vazquez, Kaitlin Kinsley, Kaitlyn Gibson, Katherine Chignoli, Kiley Duensing, Kylee Parker, Lennon Ashcraft, Lesley Rivera, Lizet Alvarez, Lucas Hobbs, Madison Collins, Manuel Rincon, Maria Lopez, Miguel Suero, Nestor Serrato, Nicholas Blaauw, Nikolas Dakalis, Olivia Ryan, Peter Mikuta, Sara Spreitzer, Torrance Hudson, Veronica Bozarth, Viviana Cortes Gomez, Walter Nowacki, Yescenia Perez
(Juniors): Aaron Brown, Addison Consalvo, Aidan Mulconrey, Aiden Solorzano, Alaina Berk, Alan Flores, Alejandro Montes, Alexa Deuter, Araceli Sotelo, Boris Edvokimov, Cailey Koemer, Carlos Garza, Christian Rodriguez, Christian Roman, Christyn Johnson, Connor Fox, Daniela Leal, Daryl Goutremount, Delilah Cortez, Deniyah Lockman, Deyanira Lima, Dylan Wheet, Eleanor Mastin, Ella French, Emelyn Ramirez, Emmanuel Zamoras, Eric Abdel-Hadi, Erika Templeton, Esmerelda Resendes, Gabriel Rivera, Gianna Sansone, Gianna Sartori, Grace Kamper, Hailey Byrne, Hannah Picco, Iannah Serna, Inez Ortizz, Isabella Hamilton, Isabelle Sorapuru, Jamie Daniels, Janaye Jordan, Jariany Miereles, Javon Doby, Jayleen Sanchez, Jeremiah Purchase, Jesse Almazon, Joao Huallpa Lujan, Jose Huerta, Josianna Newby, Julia Ryan, Julianna Flores, Julisa Hernandez, Karley Talkie, Katherine Dakalis, Kylen Mertes, Leslie Escobedo Garcia, Lilianna Guzman, Madisyn Groth, Malaya Chavez, Marcos Mateo, Mariana Rodero, Marlie Potocki, Mckayla Scott, Mckenna Anderson, Melanie Diaz, Michelle Perez, Miniya Thompson, Natalie Pranckus, Peyton Sutter, Ramon Ramos, Rose Malinowski, Rubi Aguirre Villasenor, Tiera Davis- Mast, Wilson Mcguire, Yasmin Ocampo, Zyanya Ramos Zambada
(Sophomores): Alexa Palacios, Amy Orozco, Andres Robles, Ashley Pantoja, Ashley Vargas, Brianna Ramirez, Daiane Villanueve, Jaylin Torres, Jazmin Flores-Robles, Karla Jimenez, Lauren Harms, Juis Ovalle, Marcos
Hernandez Ramirez, Maria Pantino, Melissa Cortez, Rodolfo Quiroz, Stephani Flores, Ximena Enriquez