New four day in-person schedule announced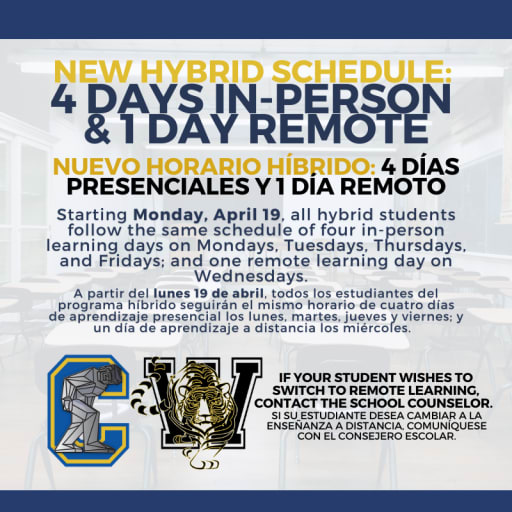 The previous plan for JTHS students to attend school in-person two days a week has transitioned to four days a week after a special Board of Education meeting. The schedule change will be implemented Monday, April 19.
The new schedule consists of hybrid students attending classes in-person Monday, Tuesday, Thursday, and Friday, with all students learning remotely on Wednesdays. Unlike the current format, which divides in-person students into three groups, all students will be in the building on the same days. 
Students attending school will need to self-certify everyday before attending the building. Pre-certification can be done through an email sent to parents at five a.m. on in-person days, or parents can create an account using CrisisGo, a self-certification app.
"I like the fact that we're going back to school four days, but I'm still a little confused on how it's going to work," stated junior Emma Schumacher. "This was a big jump from one day a week."
Joliet West joins multiple local schools who also have students in-person learning multiple days a week. Since April 6, both Minooka Community High School campuses have been conducting in-person classes five days a week. Plainfield high schools also returned to in-person learning five days a week on April 7, however their schedule consists of half-days.
JTHS students who are currently remote can contact their school counselor if they wish to switch to the hybrid schedule.