19-Year-Old Jazzpher Evans speaks out after 'Racially Motivated' attack by Quincy bar owner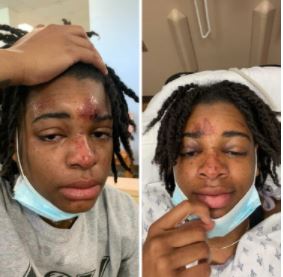 While in a nightclub named The Barn in Quincy, IL, a former Joliet West student was allegedly attacked by the bar's owner in an altercation that began inside. Evans' attorney claims she was standing next to a DJ booth with her friend with a request for a song when the owner allegedly slammed her against a wall and held her in a chokehold until she lost consciousness. He then allegedly dragged her outside and threw her to the ground, leaving her there with numerous injuries and her friend unharmed.
Evans, a 2020 graduate of Joliet West, played basketball and received a full-ride athletic scholarship to Quincy University. President of Quincy University Brian McGee explained they will "do everything we can to make certain this assault is fully investigated."
Police Chief Rob Copley shared that the Quincy Police Department was aware of the incident and assured it was being "thoroughly investigated" and that "this type of incident is always a concern, and we're well aware of that, and if we can come up with evidence to show that, we will." Evans' attorney said there were cameras pointed towards where the "attack occurred," leading them to question how quick authorities secured evidence and if it could have been destroyed.
The Joliet West Girls Basketball twitter account wished Evans well saying, "Our thoughts go out to Jazzpher Evans as we wish her a speedy recovery. Jazz was our leader for four years, she was a great student-athlete, teammate and captain. She's a great person." 
The bar owner has an apparent history of altercations at The Barn, a review under its website claims there are issues "with the owner in regards to physical assault." Another review says they left right away after seeing that there were confederate flags on the walls in the bar. According to court records shared online, he is believed to have been arrested more than forty times.
In a press conference held early on April 8, Evans stated that the bar owner "picked me up by my shoulders, wrapped his arm around my throat and began to strangle me." She also claimed that when police responded, she told authorities she had just been attacked and they had seen the injuries to her face but "didn't offer me any medical attention, they didn't ask my name." 
Evans says that she believes "he attacked me because I'm Black. The girl I was with is a white girl and I'm obviously African-American. We were doing the exact same thing, standing in the exact same spot, and he didn't say a word to her. He literally had tunnel vision and came straight for me." Her attorney agrees that it was a hate crime, voicing, "There were two individuals, Jazz and her friend, standing together, doing the exact same things. Jazz is African-American, her friend was white, why did he choose Jazz?"
The story has made it to national news as Evans' family and peers spread the incident over social media, including a TikTok made by Mr. Crim, a history teacher at Joliet Central. In the video, he explains the situation and how the alleged attacker has not been arrested. "The police from Quincy came and did nothing. Now this guy is still free." He also questions, "Why wasn't he this violent and aggressive with her friends?" The TikTok has gotten over 800k views in three days.
The family and supporters called for a peaceful protest to be held on April 8 at 3pm outside of The Barn after the press conference.
Police are asking for witnesses to come forward with any information and that "while we understand the demand for quick justice, it is important that the investigation is thorough and proper." The bar owner has not been able to be contacted as of yet.