Possible suspension of PE credits for the 2020-2021 school year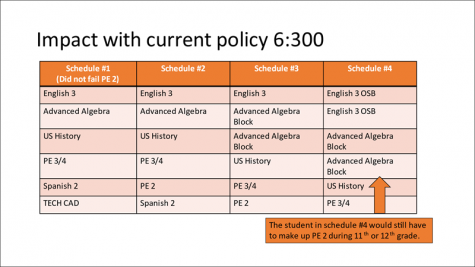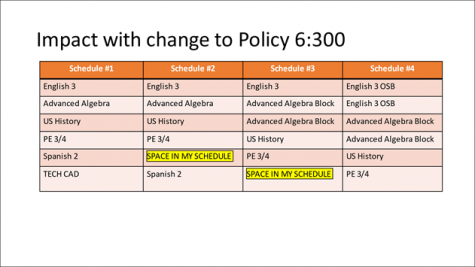 At the January 19 JTHS School Board meeting, it was recommended by Superintendent Karla Guseman that there should be a suspension of the Physical Education credit as a graduation requirement for this school year. This recommendation came as no surprise, however, as there were a total of 701 failing PE grades throughout District 204 last semester. 
During the last two weeks of first semester, PE teachers worked closely with individual students on a daily basis who were struggling in order to prevent failing grades. But freshman students, according to Assistant Superintendent Dianne McDonald, were given pass/fail grades based on weekly participation. For those first-year students, PE was completely asynchronous and not a part of their regular six-period schedule, presumably leaving an opportunity for an increase in failures. These were some of the reasons as to why suspending the required PE credit for students was suggested at the January school board meeting. 
"Our PE teachers have delivered hundreds of engaging remote lessons and have come up with creative ways to work with our students; however, we all have to recognize the difficulty of doing Physical Education remotely because of the nature of the performance based class," McDonald expressed.
Another quantifying reason for this recommendation is because a PE credit is required for graduation in all four years of high school. So, leaving these credits as a requirement may severely impact students' schedules in the future. Through the current JTHS policy regarding the PE credits, the assistant superintendent explains, students would have to make up the failing course next school year. When this happens, students will often have a block period for their gym classes in order to make up this credit. Therefore, students making up these failing courses now have less openings in their schedules for core academic classes.
But other than the possible suspension of the PE credit for this year, the district is making strides to foster students' needs during this time. "We will be embedding social emotional curriculum in all our PE courses next year so there is a holistic approach to a student's health and will be reviewing internal procedures that impact student engagement and success in PE." McDonald clarifies that one simple way the district will be working to accomplish this is solving the issues surrounding non-dress referrals students receive regarding the required PE apparel.
The Curriculum Coordinating Council (CCC), will be taking action next Thursday, March 4th and if the proposal passes, McDonald will bring the proposal to the March 16th school board meeting. If approved, then it will also be recommended that this policy changes permanently beginning the 2021-2022 school year.