COVID-19 takes over nursing homes in the Chicagoland area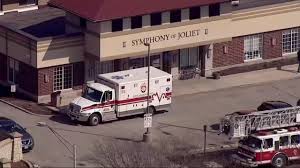 When reports of COVID-19 first broke into the media, medical experts warned that the elderly were more susceptible to contracting the virus. Now, over fifty nursing homes across Illinois are scrambling to control the COVID-19 outbreaks in their facilities.
According to the Illinois Department of Public Health, there have been a total of 11,437 nursing home COVID-19 cases. Out of those thousands of cases, there have been 1,533 deaths. The IDPH reports that 48% of COVID-19 related deaths in Illinois have been nursing home residents and staff. Data from IDPH also shows that Cook County alone has reported 863 nursing home deaths and Will County has reported 111. In regards to these outbreaks, Governor JB Pritzker stated, "When you publish that—that is, a nursing home that has an outbreak—you can stigmatize the families of the people who have relatives in those nursing homes. And we were concerned about that," he continued by stating that he is dedicated to the transparency of COVID-19 information. 
What nursing homes have been hit hard the most? The Symphony Care Network's Chicagoland facilities have been making headlines recently for their spike in COVID-19 cases. On April 18, it was reported that twenty-five people at the Symphony of Joliet had died due to the virus; twenty-four of the victims were residents and one was a worker at the care facility. On Friday, reports were updated that twenty-six people had died with 127 positive COVID-19 cases at the Joliet location. The Symphony South Shore, located in Chicago, reported that out of their 158 residents, 111 tested positive for COVID-19. Ten residents of the Symphony South Shore have died from the virus. After rumors spread that the care network lacked protective equipment for its employees and residents, communications director Lauryn Allison refuted this claim stating, "The staff does have everything they need in order to protect themselves and to protect the guests." The Symphony of Joliet is currently under investigation for the facility's COVID-19 related deaths.
But Symphony facilities are not the only long-term care centers experiencing a rapid increase in COVID-19 cases. The Meadowbrook Manor located in Bolingbrook has been declared the deadliest long-term care facility in Illinois as their COVID-19 cases and fatalities doubled in the past week. Last Friday, the IDPH reported that the nursing home had 93 cases and 10 deaths. On Friday, the numbers were much more alarming as Meadowbrook Manor had 173 cases and 26 deaths. The Symphony of Joliet and Meadowbrook Manor make up about 45% of nursing home deaths in Will County.
Many Illinois residents are growing frustrated with the lack of safety precautions being made to further prevent COVID-19 from spreading in nursing homes. Back in March when Governor JB Pritzker announced the initial stay-at-home order, many nursing homes cut off visitors from entering their facilities. However, many are arguing that this is no longer enough. On Sunday, a group of activists delivered personal protective equipment to residents of the Albany Terrace Apartments in the Little Village. Attendees at the gathering called to action that there needs to be more testing available for seniors as well as more PPE for residents. Activist Robin Hood encouraged, "If you want to stop something you have to get in the front of it. The best we can do right now is pass out PPE, and get everybody on one accord." 
Hopefully, there will soon be more precautions for nursing home residents and staff to prevent further infection of COVID-19. In the meantime, see what you can do to help the cause, whether it's staying in quarantine or donating masks and gloves, every little bit counts.