Zoom-bombing: safety concerns regarding popular communication platform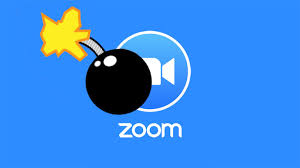 As schools in Illinois will be finishing out the 2019-2020 school year in quarantine, many teachers have started using programs like Zoom to stay in touch with their students from home. However, teachers and students alike are starting to question the safety and reliability of the application.
These concerns have risen after numerous users have become victims of "Zoom-bombing" attacks on the app. The New York Times reports that Zoom has a default setting in which anyone can join a call using a public link for a meeting; these links are now being shared through multiple social media platforms, such as Facebook groups. This leaves many Zoom calls vulnerable to Zoom-bombing. A hacker can "bomb" a call to exploit violent messages and images, anything from racial slurs to pornography.
Zoom-bombing has already become a huge issue within JTHS alone. Joliet Central history teacher Ernest Crim was a victim of this malicious attack while on a Zoom call with his Black Student Union that he advises earlier this month. He told CBS that the hacker began playing pornography during the meeting and screamed racial slurs. Crim stated that the hacker "knew specifically that our group was all black." 
Other teachers within the district have also fallen victim to these bombings. Joliet West sophomore Andrea Dodge was in a Zoom meeting when a similar attack happened on the call. She recalls that the proper precautions were not taken so that anyone could join the call. The hackers broadcasted images of swastikas and male genitalia in the meeting. "They said some pretty offensive things that made me feel very uncomfortable." Dodge also remarked that "We were all just trying to learn but we couldn't. The call had to be ended so it was a very frustrating situation."
As these harmful attacks bombard Zoom, are there safer applications for people to communicate through during quarantine? Forbes recommends Signal, Skype, Houseparty, and Jitsi. Signal is highly praised for its security, however, it does not work for group calls. Although slightly less secure than Signal, Houseparty, Skype, and Jitsi can support larger parties similar to Zoom. Both the Guardian and Forbes recommend Microsoft Teams. The New York City Department of Education has recently banned Zoom and has switched to Microsoft Teams. In comparison to Zoom, Microsoft Teams has been proven to have better security as it encrypts data and provides protection against attacks like Zoom-bombing. Microsoft's corporate vice president Jared Spataro gave a little jab at the recent criticisms of Zoom's safety by stating, "At Microsoft, privacy and security are never an afterthought."
Now that schools across the country will now be closed for the rest of the school year, districts are going to have to rethink how teachers, students, and staff are going to communicate in the following weeks. With growing concern for applications like Zoom, hopefully, more secure options like Microsoft Teams will be utilized by more people.