What does Trump's CARES Act mean for you?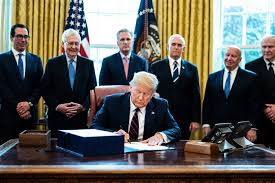 On Friday, March 27, President Donald Trump signed into law a $2 trillion stimulus package, known as the Coronavirus Aid, Relief, and Economic Security (CARES) Act. The act is the largest emergency aid package in US history, according to CNN. This signing comes after unemployment rates skyrocketed last week as a result of the COVID-19 pandemic. With many businesses being forced to close, many Americans have found themselves out of work and will rely on the checks from the stimulus package in the weeks to come. 
According to the Visual Capitalist, the $2 trillion from the CARES Act will be divided into five components: individuals/families, public services, small businesses, big businesses, and state and local government. Individuals and families will receive approximately a 30% share of the package, $603.7 billion. Big businesses will receive a 25% share of the package, small businesses 19%, state and local government 17%, and lastly, public services will receive 9% of the package.
What does this mean for you and your family? Individuals receiving a salary of up to $75,000 per year will receive $1,200. So, married couples will receive $2,400. Along with this, families can collect $500 per child. If the individual receives an income greater than $75,000, the amount they receive from the stimulus checks decreases. Those who receive a salary of $99,000 or more are not eligible to receive a check, even if they have children.
As of right now, the stimulus checks will be a one-time payment that individuals should receive in approximately three weeks. However, the IRS is hoping to send the payments out as soon as April 6. US Treasury Secretary Steven Mnuchin laid out the payment plan stating, "We expect that within three weeks that people who have direct deposit information with us will see those direct deposits in their bank accounts." He continued by explaining that there will be a web-based system where Americans can upload their direct deposit and immediately receive their money as opposed to waiting in the mail.
In the meantime, wash your hands, stay inside, and stay healthy!