Social distancing guidelines extended to April 30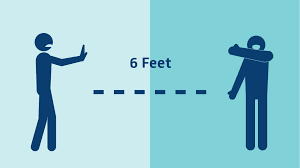 In a press conference broadcasted to the entire nation Sunday night, President Donald Trump announced that social distancing guidelines will be extended through April 30. This comes days after Trump expressed his goal to ease restrictions by Easter. Following this statement, the president's administration aims to finalize its federal guidelines by March 31.
With Coronavirus cases continuing to rise in America, Dr. Anthony Fauci stated that lengthening restrictions was a "wise and prudent decision." The United States now has the most known cases of Coronavirus in the world and the President stated the virus's peak will likely occur in two weeks. New York has seen the highest amount of cases in the country, with 59,000 people infected in the state as of Sunday.
When speaking on his original goal of lifting restrictions by Easter, President Trump stated the timeline was "aspirational". "Nothing would be worse than declaring victory before the victory is won," he continued and went on to urge citizens to continue staying home when possible. 
Despite the continuation of federal social distancing guidelines, the President remains hopeful of rehabilitation in the coming months, stating, "By June 1, we will be well on our way to recovery." 
As of now, it is unclear how the updated guidelines will affect local school closures. Illinois governor J. B. Pritzker's most recent announcement has schools closed through April 7. "I didn't think that during this time I'd miss school as much as I do," commented Emma Schumacher, a sophomore at Joliet West. "I hope that this ends soon and life can return to a somewhat normal state." 
Throughout this pandemic, the federal and local governments are urging citizens to stay inside and do their part to flatten the curve.