Police BluePoint Alert Systems not working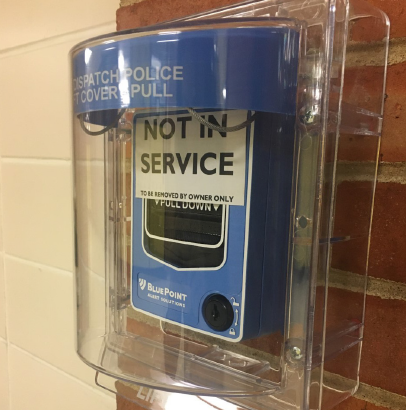 This 2019-2020 school year has brought a lot of new building security changes to Joliet West. The most noticeable change is the newly installed BluePoint Alert System. The BluePoint police pull station works very similarly to our fire alarm system. When the alarm is pulled, an alert is sent to the police department in the instance of an emergency. The BluePoint police pull stations are not hard to spot as there are twenty-nine posted throughout the whole building. However, there are still 'out of service' signs posted on each station. And with a whole semester left in the 2019-2020 school year, this is very concerning.
Currently, the biggest issue with the pull stations is that they are not yet connected to the Joliet Police Department. This is critical because the pull station has no purpose without the collaboration of the police department. For example, it's important for the system to be set up to both the school's main office and the police department so that the system's cameras connected to the pull station can show exactly the time, place, and by who the police pull station was pulled by.
Despite not yet being in use, Joliet students have opposing opinions on the BluePoint pull stations. Certain students feel that there are positives to the police pull stations. Senior Gabby Houde stated, "They definitely make us feel more secure. It's reassuring that if an emergency were to occur, the police are available in one switch. There's still a lot that needs to be done, but it's nice to know that advancements are being made regarding our school's safety."
Meanwhile, other students feel that the BluePoint pull stations are somewhat of a waste, and slightly unsettling. "It's a band-aid on a bigger issue," junior Kelly Rappaport expressed, "it's sad that we need the police box in the first place. However, it certainly won't hurt our school by any means. But if students need to use the police box and it's out of order, it's a waste."
With a full semester still left in this 2019-2020 school year, we can only hope that the BluePoint police pull stations will soon be in use, and students can feel a better sense of security when they walk into school everyday.