Third Illinois Resident dies from vaping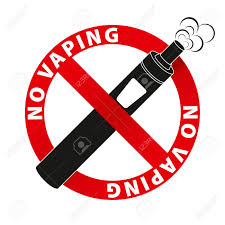 The Illinois Department of Public Health announced on October 31, 2019, that a third Illinois resident has died from vaping. According to IPDH, the number of cases of people reported who have used e-cigarettes or vaped and have been hospitalized with respiratory symptoms has doubled in 2019. Residents age from 17-38 years, the highest rate of any other age group hospitalized, have experienced respiratory illness after using e-cigarettes or vaping.
In Springfield Illinois, the third Illinois resident who had died recently was hospitalized for a severe lung injury as a result of vaping, according to Abc7 Chicago. In a recent statement, health department director Ngozi Ezike urges residents against using vape or e-cigarette products, "New cases continue to be reported in Illinois and across the country," Ezike said. we will continue to investigate this outbreak." Currently, there is not much information on the long term effects of vaping and what dangers it has on the lungs. As time moves forward, more information will eventually be revealed on the health risks associated with vaping. 
A statement with a similar view on the topic of vaping expressed, "Vaping is an epidemic for students as they do not know what can happen to their bodies in the long-run," says Susan Hurley, a school nurse at Joliet West High School. 
Due to the constant research on vaping and its harmful effects, it has been discovered that because nicotine is an addictive and toxic substance when in use it raises your blood pressure and spikes your adrenaline. The side effects of vaping increase the chances of gaining respiratory-related illnesses and the likelihood of being hospitalized. 
"Essentially, they are chemicals. There is not much information on what these chemicals are doing long-term. It's very bad for your health, I believe students need to be aware of what they are putting in their body and consequences that vaping has on their health," Hurley expressed. It is candid that many other individuals in the health-related field agree with the information already found about vaping. It is only a matter of time until the majority of research is found and preventative plans are taken into action. 
In summary, the cause of vaping-related illnesses remains uncertain. As the IPDH continues to gather new findings on the long-term effects of vaping, it is likely that Illinois and many other states will continue to have problems due to the lack of information on vaping.