Multicultural club celebrates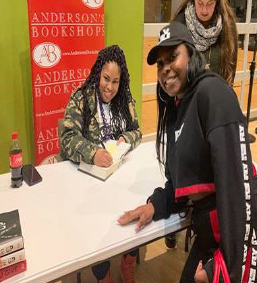 The multicultural club has been up to a lot lately. Just recently, they have partaken in a conversation, a Q&A and a book signing with Angie Thomas, the author of The Hate You Give. After the Q&A, the film version of The Hate You Give was shown while students waited to meet Angie Thomas.
The Hate You Give is a compelling story following a 16-year-old girl named Starr Carter who navigates her life between two very different neighborhoods: the poor neighborhood where she grew up and the fancy prep school she attends.
However, this fragile balance is destroyed when Starr witnesses the fatal shooting of her childhood friend Khalil when a police officer shoots him unarmed. His death becomes a national headline and the stereotype of "drug dealer" and "gangbanger" start to spread about Khalil. Starr realizes that it is up to her to explain what went down that night, even if it means putting her life at risk.
The kids had a great time as Carrington Jackson, a senior stated "It was powerful to see someone's thoughts become this amazing masterpiece and showed me that a black woman can do anything she puts her mind to."
They have also been celebrating black history month highlighting black history facts and notable African American figures on TNN and the morning announcements.
Mrs. Crim also plans on taking the students to the Dusable museum along with bringing in an amazing guest speaker.