Nike ad spawns controversy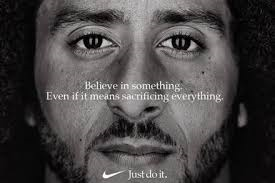 The internet exploded on Monday September 3rd after Nike released a new campaign using the face of former 49ers quarterback Colin Kaepernick.
In the photo, Nike captioned it "Believe in something even if it means sacrificing everything" with the Nike logo at the bottom of the picture saying, "JUST DO IT".
Many people were outraged by the picture because Kaepernick was formerly kicked off the 49ers football team for kneeling during the national anthem and has yet to be redrafted.
Some Americans think that Nike shouldn't be using Kaepernick as their spokesman after "disrespecting" the United States/flag. Many Nike buyers were filled with rage and went to the internet where they burned, cut, tossed out, etc.…. Nike wear. Some of the imbeciles went as far as to burning the shoes while still on their feet. There were more applaud towards Nike about the situation than disagreement about it.
Nike also released a video ad Wednesday September 5th that also included Colin Kaepernick. The president of the United States also had some things to say on Twitter. When his Twitter fingers came out, he wrote "What was Nike thinking? "on September 7th, 2 days after Nike has released the ad that included Kaepernick along with the photo that had been released on the 5th.
Although there are some outraged customers, Nike's sales have increased 31% after the Colin Kaepernick ad. It may turn out that Colin Kaepernick had more fans and supporters than haters.