Stood their ground for Standing Rock
Kyle Reed, contributing writer
December 13, 2016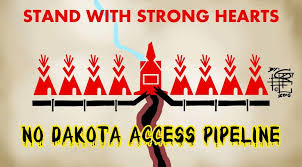 Oil, a three letter word which is worth millions. From houses to car and airplanes to trains, the United States uses 19.4 million barrels of oil per day. After reading that figure, it shouldn't no surprise that we are running out of this precious resource.
Decisions must be made to either find more, or substitute. Countries such as Germany have turned to green energy, while others such as the United States have begun to drill into their own land in search for more oil.
The state of North Dakota, one which is rich in oil, was seen by many as the Promised Land by U.S oil companies. As the interest around North Dakota's oil grew, the Dakota Access Pipeline was born, proposed, and then passed.
Originally to be finished by January of 2017, the pipeline was set to stretch across four states and run at a length of 1,172 miles. With a budget of $3.7 billion, 470,000 barrels of oil would be transferred per-day if successful.
Oil companies such as Exxon and Chevron exclaimed that creating an oil pipeline would be good for the economy and job creation, but scientist and activists argue that fracking and drilling into our land is extremely dangerous.
The project faced even more ridicule and controversy this month when it was announced that the pipeline's route would tear through the Standing Rock Native America Reservation; a sacred location for Hunkpapa and Sioux natives.
Native Americans and environmentalists began heavily protesting once construction began, and law enforcement has been heavily criticized for using extreme methods against protesters, such as tear gas. Multiple civilians have even been shot in the face with rubber bullets.
Politicians such as Bernie Sanders and Jill Stein have even participated in protests, and President Obama has even expressed interest in stopping the Dakota Access Pipeline. Executive action will be unlikely however with only one month of the president's term remaining, and President-Elect Trump being largely in favor of the pipeline.
It was announced on December 4th by the Army Corps of Engineers that it would not issue a permit for the pipeline to pass underneath the Missouri River, a decision that made all of the protestors at Standing Rock relieved, but they were not finished yet.
The pipeline would be rerouted away from sacred land and the Standing Rock Chairman announced that people can return home, but they are still supportive of staying there. Supporters brought supplies like wood and winter clothing to keep those individuals still protesting warm. "It's good to be here. We are costing them money, but the fight is not really over, the pipeline is still going in and this is a way to just let air out of the movement," said Ingrid Vacca of Kansas.
Protestors are not leaving due to the fact that Trump will be taking office in a few weeks and will then have the ability to change the decision and the people of Standing Rock will remain where they are until they are reassured that nothing will happen to their land.