West mourns loss of student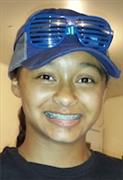 Described as quiet and shy, yet honest, sweet and amazing, there is no wonder everyone is feeling the loss of a fellow classmate. Sadly, over the Thanksgiving break, senior, Charly Robledo, age 17, unexpectedly passed away. Her passing has left her family, friends, and teachers in a state of shock. "I'm heartbroken you decided to leave us so soon," shared friend and class of 2016 graduate Serena Gregory.
Charly was an honor roll student and was actively involved in both Track and ROTC. She was also a dedicated member of the Joliet Police Department Explorer program. "Track will definitely not be the same without her stunning smile," said graduate and fellow track athlete Marina Rico.
"She was extremely smart and she loved ROTC," said classmate and friend Ashlynn Ealey. "She always wore the same blue sports Jacket. She was shy and didn't talk much. Charly was an amazing person, obviously she is going to be missed, she will always be with us."
To help offset the costs of this unexpected tragedy, a GoFundMe campaign has been set up to cover funeral expenses. To contribute to the campaign search 'Funeral Expenses for Charly Robledo'. As of Friday, December 2, over 2,400 dollars have been donated towards the 5,000 dollar goal.
Charly not only impacted those around her but has left a lasting impression on her school counselor as well. "She was a thoughtful and kind and honest person, it took some time to get her to open up, but when she did she had a great sense of humor and she truly cared for others," said Joliet West counselor Mrs. Reinbolt. "Charly was one of the first students I began working with at Joliet West and for that I am grateful. Charly will be dearly missed and we are all so lucky to have known such a sweet person."
A memorial service in Charly's honor will be held Saturday, December 3 with a visitation at Tezak Funeral Home, 1211 Plainfield Road, Joliet from 4:00 p.m. until 5:30 p.m. A service will be held in the funeral home chapel following visitation at 6:00 p.m. Obituary and tribute wall for Charly Angel Robledo at www.tezakfuneralhome.com or for information, 815-722-0524. – See more at: http://www.legacy.com/obituaries/theherald-news/obituary.aspx?pid=182855928#sthash.vtZtM7St.dpuf .