Peretti plays to change the game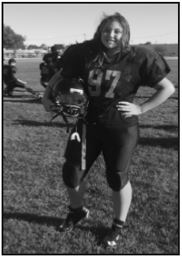 Hope Taques , Assistant Entertainment Editor
November 16, 2015
"It was actually just a joke between my dad and I at first. Like hey, football, let's do it," freshman Keegan Peretti laughed. "I'd never even played or really watched that much football before."
Peretti explained what it's like being the and only girl on the Joliet West football team. "It actually turned out that I surprised the coaches. I mean, I got my pads right away, and there's some guys who still didn't have their pads."
She is the second known female to play football at West.
Currently, Peretti is a linebacker on the freshman's football team. "The very first day, I hated it, because they had me being a D-liner, which basically are the people in the front who look like apes and have to push people. So, they had me pushing these big bags and I thought I was gonna die by the end of practice," Peretti laughed. "But then they switched me over to linebacker and I thought, this is awesome."
Peretti is one of the school's first girls to be on a predominately male sports team, and because coaches legally can't be gender discriminatory when it comes to trying out for a school sport, Peretti had just as much as an equal opportunity as the rest of the hopefuls trying out.
Of course, being the only girl on the team can be a little rough. "I mean, they all treat me like I'm one of the guys and part of the team," She explains, "My best friends on the team are a little less rough with me though."
Of the overall reaction and support from the team around her was like, Peretti smiled, trying to best explain it. "My coaches are cool and just really great. And I have my best friends on the team who are really nice and we talk [in] the hall, then I have just strict teammates because that's just what our relationship is. Then there's the guys who are a bit standoff-ish because they think that football is a man's sport."
On an old topic that's been worn down to its very tip, Peretti commented, "I don't think sports should be gender assigned, I think if anyone wants to play, they should play."
Senior Serena Gregory, sympathizing with Peretti, added to the issue, "I think if guys have the opportunity to choose which sport they want to play, so should girls, and nobody should be able to have a say whether or not it's right or wrong."
Overall, when discussing her position on the team and being one of the only female players in Joliet West's history, Peretti Peretti acts as if it's nothing strange. She stated, "I don't think me being the only girl on the team is that big of a deal."
Regardless of Peretti's view on her involvement with the team, others are a bit taken aback when seeing her walk the halls wearing the black and yellow jersey. "People just kinda stare, and then whisper to each other, like 'Yo there's a girl on the football team,'" she said. But many comments about the linebacker are more positive. One junior, Brooklynn Johnson, said, "I mean, it's like if there can be guys in cheer, there sure can be girls on the football team."
After seeing information about football at registration, she became serious and determined to go for it, even missing her family vacation.
Peretti surprised everyone, including herself, and has gained a new passion along the way. "I can say that I really do like the sport," she said. She said that she just wanted to try it, so that's exactly what she did.