Thomas Built Buses Rewards JTHS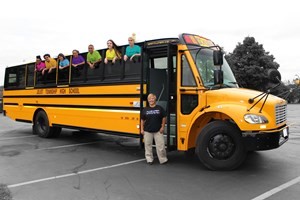 After winning a back to school photo contest last fall, with the students showing their best back to school spirit, Thomas Built Buses rewarded Joliet Township High School $20,000 dollars. The money was received as a check at a board meeting January 20th. The photos, where submitted to the Thomas Built Buses face book page for people to vote for their favorite picture.
50 pictures were picked to go to a panel of people who picked 5 of the best pictures submitted. The 5 schools who received that $20,000 are, Clear Springs Elementary School, Moon Lake Elementary School, Carver Elementary School, and Carlisle Elementary School. All of the pictures have students in a bus showing off their spirit. "School buses have always been an iconic symbol for the back to school season and the excitement that goes with it," said Thomas Built Buses President and CEO Kelley Platt. "We thoroughly enjoyed all of the photos entered in our second-annual photo contest, and we were so pleased to be able to make donations to the winning schools again this year." according to JTHs.org.
The picture for Joliet Township High School shows come with the caption, "Joliet Township High School students and bus driver head back to school demonstrating the 7 JTHS character attributes".    The picture includes Amber Bailey, Alex Mendez, Kassandra Caceres, Jessica Cherrington, Tyler Samuels, Kaetlyn McHugh, Rachel Hoff and Gigi Jaback. (Picture goes from left to right)
Thomas Built Buses, does this contest every year after summer. In order, to enter the contest you must live in one of the fifty states in America. Also, no kindergartens are allowed to participate. Each year a new theme for the contest is issued, for more details on the contest go onto Thomasbus.com after the summer of 2015 to see the rules and to possibly enter.