West has character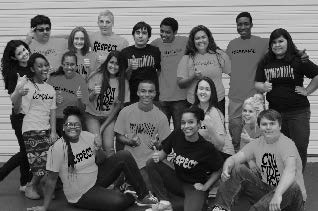 Back in September, Community Relations for District 204 held a photo shoot for students who had turned in an application to be featured on character attribute posters.The posters display Joliet Township's "7 Words Make a Difference," which are compassion, confidence, respect, responsibility, tolerance, integrity, and perseverance. Applicants explained the importance of their chosen attribute and its significance in their own lives in their essays.
Freshman Mae Mastin related, "I think it was a great way to get involved in the Joliet Township community and to learn about the school's values." Administrators chose the winning essays from the submissions.
At the photo shoot, students wore shirts with words complimentary to their chosen attribute. The event took place outside the Joliet Township Administrative center on Caterpillar Drive.
The photos involved students hanging out the window of a JTHS school bus to show off their designated out
fits. Individual photos were taken of the characters, along with photos that included two people with the same word on their shirts. Group photos of all attributes, in different poses, were also taken. After the photo shoot, students were served snacks and pizza to celebrate.
Students who attended claimed that the experience made them feel more connected to the Joliet community. They also felt as if they were becoming an important role model within their school. Junior Kassandra Caceres of Joliet West said, "I think it was an awesome experience. It helps you get more involved with the school and that's something I wanted to do before I leave here."
The photos from the character photo shoot will be displayed in hallways and classrooms at both Joliet Township schools, and will be included in the 2014 – 2015 annual report.