Innovative learning comes to life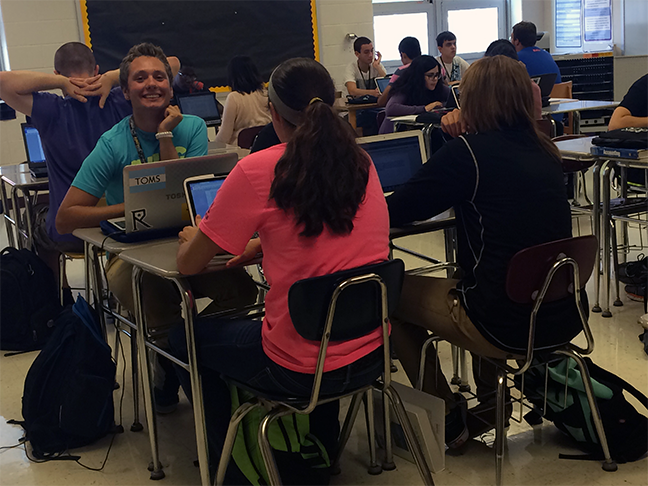 A new way of teaching has graced the halls of Joliet West High school. Since the end of last year there have been rumors of block scheduling and blended learning but there wasn't much information about them. Since the start of this year, it has been what everyone seems to be talking about because this is the first year that these teaching methods have been used. What exactly are block schedules and what course does it apply to?
Block schedules have been given to people who are in AP US government and AP Microeconomics, which is a class that needs to be taken senior year. Every week for the rest of the year the students taking those classes will alternate between government and economics. For example; Monday, Wednesday and Fridays, the students will go to Economics, while on Tuesdays and Thursdays, they will go to government. And then the next week it will switch. Mr. Poort, the AP Microeconomics, Economics, and US government teacher stated that, "Due to the increase in the amount of people who want to take an AP course, the block scheduling allows students to get a higher score on the AP exam as well as giving them a view at what college life will be like." So far the students have become accustom to block scheduling rather quickly, which is another upside.
Another new thing this year, is blended learning, which is when two days of the week are spent in class and the other three are spent at home. During blended learning days, when they are not in the classroom, students are often given computer assignments. Melissa Aharrah, a senior, commented that "When I found out about blended learning, I was intrigued, and now that I am experiencing it firsthand I realize that the school is giving us a chance to learn in a new way and expanding our knowledge at the same time." Because many of the students have come to like blended learning, these positive reviews will be used to see if this will be a common learning style in the next few years.
These new ways of teaching are used to prepare students for college as well as giving the students more time to complete their assignments. If teachers find that these teaching styles are getting positive feedback from the students, then they will possibly have more classes like this in future years at Joliet West.