Literature Festival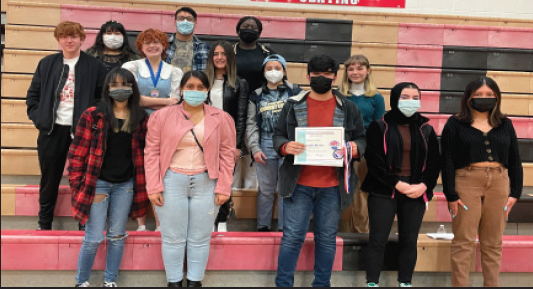 Recently, students got the opportunity to showcase their creativity in the 2022 SPC Literary Festival, which took place at Yorkville High School.
There were seven total categories students could submit their work to; as a whole the Lit Fest contained a wide variety of writing and supported the imaginations of many talented young minds.
One sponsor for Lit Fest at Joliet West, Mr. Newman, noted "overall, the Lit Fest is a great opportunity to recognize the talented writers we have at JTHS and we look forward to more submissions and more wins in the future."
These are the JTHS students who claimed awards in each category: Short Fiction: Octavio Ortiz: Critic's Choice and an Honorable Mention; Aidan Renteria: 2nd place Descriptive Sketch: Sarah Shay: 1st place; Critical Essay: Ellen Lundeen: 3rd place; Lilianna Carranza: Honorable Mention; Poetry: Clare Lundeen: 1st place; Personal Essay: America Rivera: Honorable Mention; Clare Lundeen: Honorable Mention; Personal Narrative: Kara Duensing: Honorable Mention
Although several members could not attend, Joliet West still came in strong with many wins in most categories, since the submissions and judging were done ahead of time. The event itself contained workshops and speaking led by published authors.
For students hoping to participate in the future, either returning or for the first time, the SPC Lit Fest will be held next year at Joliet Central.