Joliet West competes in the SPC Journalism conference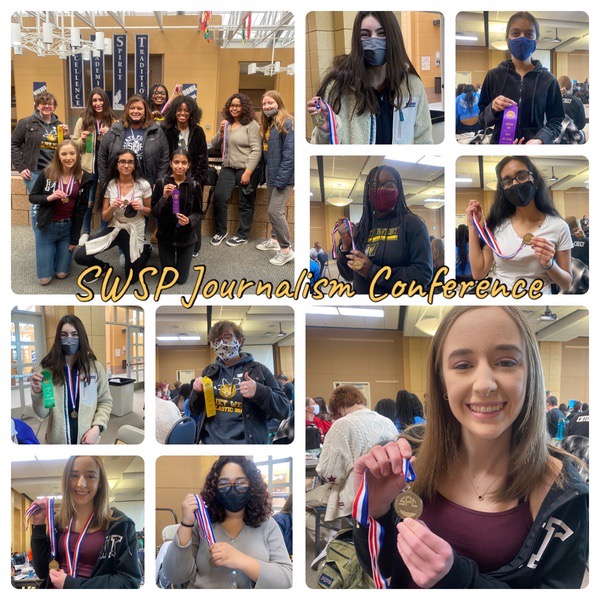 It appeared there would be no SPC conference competition for the Joliet West High School journalism students in 2022. There wasn't a team assembled, and hence no way to compete.
However, junior Ariana Westbrooks was deter- mined to get the students in the journalism program to conference this year, so she grabbed her computer and set off, encouraging the journalism students to volunteer to go and compete and creating a list of those willing to go.
The troops were rallied, and on Saturday, February 26, at around 7:30am, nine students and their journalism teacher—Ms. Galloy—boarded a bus and set off from Joliet West High School, all the way to Oswego East High School where the competition was taking place.
Joliet West had students competing in all sorts of journalistic competitions, ranging from headline writing to broadcast news. The students went their separate ways to compete, then gathered up again to eat some pizza and
have some fun playing UNO as they waited for results.
Joliet West took fifth place overall, and for the individual categories, took first in Newspaper Design and Infographics, second in News Writing, third in Photo Storytelling, Broadcast News and Feature Writing, fourth in Yearbook Copy Writing, fifth in Yearbook Layout, and sixth in News Writing. Oswego East, the host school, took first place overall.
"I was pleasantly pleased with how we did, especially with a lot of [the students] going for the first time," said Ms. Jennifer Galloy, the journalism teacher at Joliet West High School who took the students to the conference.
IHSA Sectionals will take place in April for the journalism students, and it will happen remotely, so the students can work from the comfort of their own school.
Freshman Nancy Patel, a journalism student who went to the conference for the first time this year and placed
second in News Writing, says "I feel as if I have learned a lot about journalism from the conference, especially with
seeing and competing against other journalists. I enjoyed it, and am looking forward to sectionals next month."